Divine Icon Talent Hunt .
Divine ICON Nigeria formally known as (Gospel Music Star Quest) is a yearly competition organized by WISDOM TO WEALTH & DEV. FOUNDATION with the slogan Empowering Personalities,
The NGO for Mind, Business & Project Development towards Sustainable Leadership, Peace and Prosperity.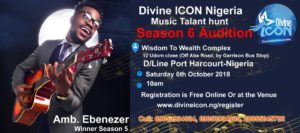 The sole aim is to drive human capacity building and positive youth development through mind training, attitudinal change with high personal and corporate values designed to inspire performance.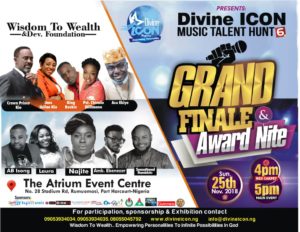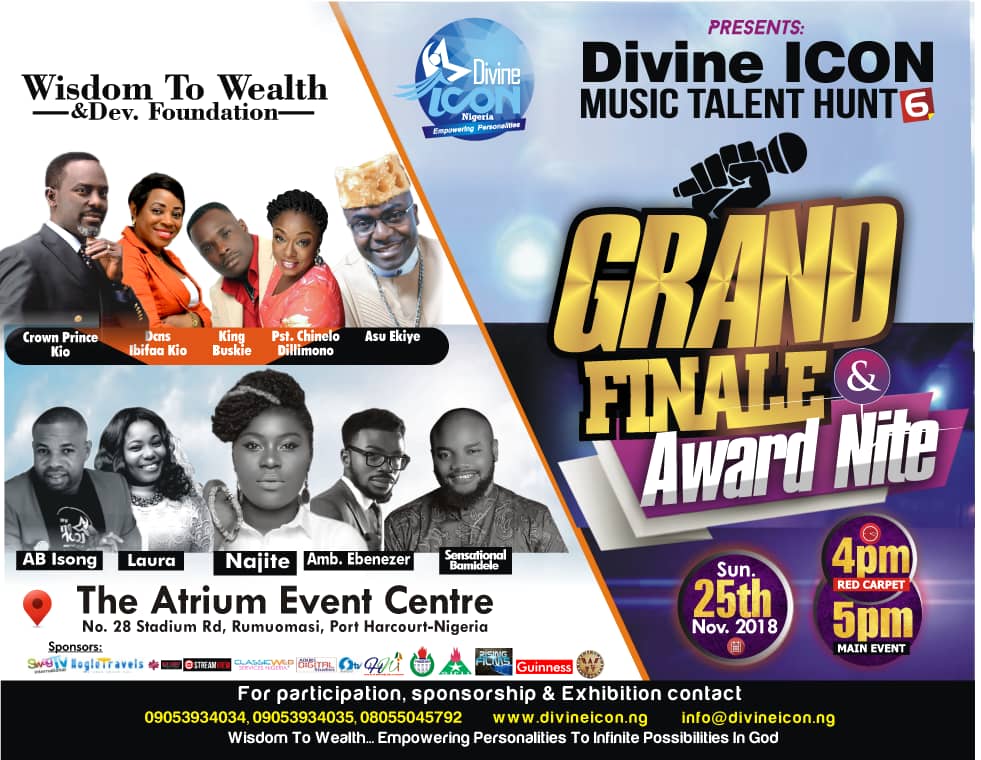 Information Bulletin No. 11
Dear DIN6 Contestants
Be informed that the following 15 contestants with the highest votes will qualified to the Quarter Finals which holds on
Sunday October 14, 2018, if they maintained their highest votes.
The Contestants are;
1. DIN6 60161
Howell Lawrence
Vote count: 171
2. DIN6 60233
Truth Amoni
Vote count: 130
3. DIN6 60232
Favour Eteile
Vote count: 124
4. DIN6 60339
Oghenekevwe Onome
Vote count: 113
5. DIN6 60381
De-Excel Crew
Vote count: 110
6. DIN6 60026
Charles Imuse
Vote count: 105
7. DIN6 60265
Heart Riman
Vote count: 105
8. DIN6 60152
Ayibanimi Willapbo
Vote count: 102
9. DIN6 60267
Godwin Sam
Vote count: 102
10. DIN6 60183
Emmanuel Praise Ejiro
Vote count: 100
11. DIN6 60093
Enoch Renner Talbot
Vote count: 100
12. DIN6 60087
Chidi Nwamadu
Vote count: 100
13. DIN6 60119
Etefia Etefia
Vote count: 91
14. DIN6 60225
Dennis Faith
Vote count: 60
15. DIN6 60288
Maureen Akaninwo
Vote count: 50
Note that you can be one of the top 15 contestants, if your votes increases to be among the top 15 highest votes before 5th October, 2018.
Be informed further that a live Audition will be held for the rest contestants below the Top 15 contestants as follows:
Date: Saturday 6th October, 2018
Time: 10:00 am
Venue: Wisdom To Wealth Complex, No. 12 Udom Close, (Off Aba Road by Garrison Junction), D/Line, Port Harcourt
Be prepared because the Audition will qualify another 25 best contestants for the Quarter Finals. A total of 58 contestants will feature in commemoration of Nigeria at 58
If you think you cannot make it through the voting or you are just being aware of the competition register below to be part of the audition.
https://www.divineicon.ng/audition/
Please note: if you are having difficulties voting with your ATM card, you can make a direct online transfer to Divine ICON Account, details as follows:
Bank – FCMB
Account Name – DIVINE ICON NIGERIA
Account No. – 5513766015
After payment, send your Proof of Payment with your Tag Number to 09053934034 and your vote will be added to you within 3 working hours of confirmation.
Voting ends by 8:00am on Friday 5th October, 2018.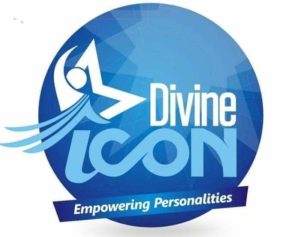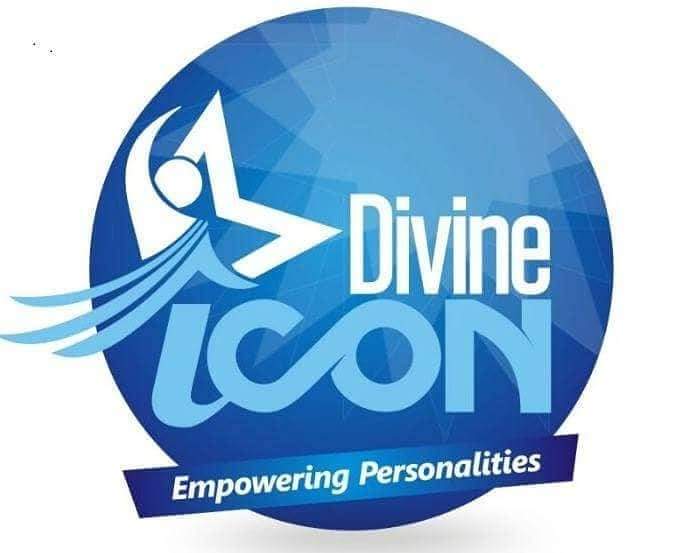 Crown Prince Kio (The convener).