Ijaw youths.
APC Federal Government lacks the willingness to restructure Nigeria says Governor Wike
Rivers State Governor, Nyesom Ezenwo Wike has declared that the present APC Federal Government lacks the willingness to restructure the country.
Addressing delegates of Ijaw Youth Council (IYC) Worldwide at the Government House Port Harcourt on Saturday, Governor Wike said that Vice President Yemi Osinbajo made it clear that the APC Federal Government does not believe in restructuring.
He said: "I believe completely in restructuring. If this country must move forward, then it must be restructured.
"Let nobody deceive you, Nigeria is dying. This APC Federal Government does not believe in restructuring. But the Niger Delta says very clearly, we want restructuring.
"What we are talking about transcends party politics. We are talking about the overall development of the country and in particular, the Niger Delta".
He said anybody who understands the fundamentals of the retrogression taking place in today's Nigeria, will vehemently support restructuring.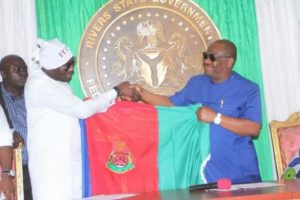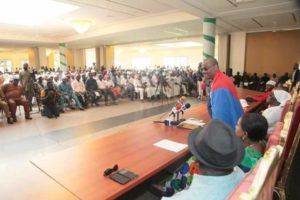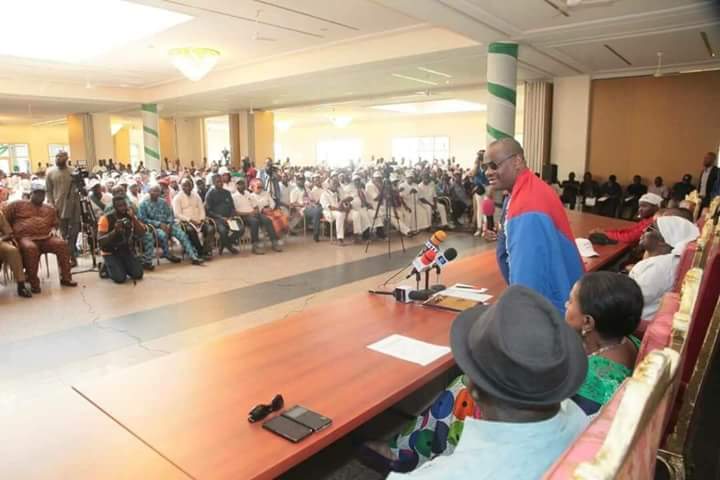 He said: "For us as a people, we cannot be deceived any longer. Nigeria is such a complex country. Just a few weeks ago, a Bayelsa man was the DG DSS, but he was removed."
Governor Wike said when President Jonathan was in office, the external forces used Niger Delta indigenes to pull him down on the altar of flimsy excuses. He said since Buhari intensified failure in governance , no northerner has been used to malign him.
He called for unity amongst all groups in the Niger Delta, noting that the development of the area should form the premise of every single action.
"If you believe in what you are doing, then nobody can use you. For me, as long as God gives me strength and wisdom, I will continue fighting for the restructuring of this country.As a people we must work together", he said.
He stated that when it mattered most, he supported an Ijaw son who was the President of Nigeria to the end.
Commenting on his struggle for the PDP National Convention to hold in Port Harcourt, Governor Wike said it was purely for the economic wellbeing of Rivers people and not for any political advantage.
On the recently burnt Fruit and Vegetable Market in Port Harcourt, he wondered why the Minister of Transportation would play play politics with the affected traders by claiming he would reconstruct the market, when he could not reconstruct the Burnt Mile One Market as governor.
Also speaking, Senator Dino Melaye said that the only way that restructuring can be implemented in Nigeria is by voting out the failed APC Federal Government.
He praised Governor Wike for his outstanding projects delivery in Rivers State, saying that Rivers State has made tremendous progress under the leadership of Governor Wike.
Melaye described Governor Wike as a defender of the defenceless and a courageous governor committed to the development of the country.
Human Rights Activist, Madam Ankio Briggs declared that the country has no option but to immediately restructure. She noted that restructuring simply means resource ownership and control.
Briggs warned that the electoral fraud being perpetrated across the country will not work in Rivers State, as the leadership of the state cannot be determined by Abuja.
President of Ijaw Youth Council (IYC) Worldwide, Mr Preeotubo Oweilaemi called on the Federal Government to as a matter of urgency embark on restructuring the country.
He commended Governor Wike for the delivery of projects in Ijaw speaking areas of the state.
Member Representing Port Harcourt State Constituency Two, Mr Tonye Adoki lauded Governor Wike for his brotherly disposition towards the Ijaws and numerous projects executed where they reside.
Simeon Nwakaudu,
Special Assistant to the Rivers State Governor, Electronic Media.
29th September, 2018.