The Rivers state government accuses APC chieftain, Joe Igbokwe, of disgracing the Supreme Court and painting the nation's judiciary black
The Rivers state government has given a chieftain of the All Progressives Congress (APC), Joe Igbokwe, a 7-day ultimatum to name the Supreme Court justices he claimed Governor Nyesom Wike bribed.
The Rivers state commissioner for information and communications, Emma Okah, issued the ultimatum in reaction to Facebook post on Monday, July 16, 2018, where Igbokwe, the spokesperson for the Lagos APC, said Governor Wike will never again have the opportunity to buy justice from the Supreme Court where President Muhammadu Buhari is the president.
Joe Igbokwe post read: "Wike will not have the audacity and the temerity to kill again in Rivers State and run to Supreme Court to buy justice. it will never happen again in Nigeria where President Muhammadu Buhari is the president."
Angered by the Facebook post, the Rivers state government accused the APC chieftain of disgracing the Supreme Court and painting the nation's judiciary black in a bid to bring down a sitting governor.
Spokesperson for the government, Emma Okah, said: "It takes a lunatic or one whose vision of reality is distorted to disgrace the Supreme Court and paint the nation's judiciary black in a bid to bring down a sitting governor whose only offence is that he has asked that things be done right in Nigeria.
"Certainly Igbokwe belongs to the axis of evil that sees nothing wrong in the killing of fellow Nigerians, especially his kinsmen and that is why he carelessly brands a governor as a killer even without any iota of evidence."
Okah described the comments of the APC chieftain as not only ungodly.
"Igbokwe and his sponsors in their hallucinations cannot come to terms that Wike has remained the conscience of Nigeria's democracy and delivered more projects and dividends than any governor since 2015.
"It is for this reason that his base and malicious reference to Wike as a killer remains worthless and empty."
The commissioner said Igbokwe lacked the moral justification to insult Wike without provocation. He said the APC chieftain will hear from the Rivers state government should he fail to name those bribed or killed by the governor as claimed.
Ebun Oku Adegboruwa reacted also to Joe Igbokwe post :
JOE IGBOKWE'S UNPROVOKED MOCKERY OF THE JUDICIARY
Some few minutes ago, Mr. Joe Igbokwe posted on his Facebook wall, a comment, to the effect that the Governor of Rivers State, Mr Nyesom Wike, the latter a lawyer and a member of the Body of Benchers, bought his way through the Supreme Court of Nigeria.
I was alarmed at such open declaration, given that I'm part and parcel of the Nigerian judiciary.
Consequently, I urge all lawyers, activists and lovers of the rule of law and due process, to join me to engage Mr. Joe Igbokwe on this rather reckless utterance.
Indeed, it is the height of indignity. By my last reckoning, Mr Joe Igbokwe is still a public servant, in Lagos State, the land of opportunities, being paid thorough our sweat and labour.
How can such a person paint the entire legal system of Nigeria with such conclusion as that one could buy judgment in the Supreme Court?
It is highly contemptuous, and it is a case that the Honorable Attorney-General of the Federation should take up, as the official leader of the Bar.
Beyond that, the Honourable Chief Justice of Nigeria, the Nigerian Bar Association and the Body of Senior Advocates of Nigeria, should, as a matter of extreme urgency, demand official sanctions against Mr. Joe Igbokwe, on this very grave allegation.
We cannot continue in this culture of impunity, where everything goes and our value systems are being eroded by persons who hold out themselves as uncontrollable.
I verily believe that Governor Akinwunmi Ambode will not subscribe to this open blackmail of the entire judiciary of the nation, by his own appointee.
The All Progressive Congress, of which Mr Joe Igbokwe prides himself as its spokesperson, is part and parcel of the judiciary, being the party in charge of governance presently.
If the APC cannot rein in Mr Joe Igbokwe to contain his reckless outbursts, then it should be ready to contend with lawyers and judges, at the appropriate time. I say this because I know that there are law abiding persons in the APC, who should not allow Mr Joe Igbokwe to pith the party against the judiciary.
Enough of this cheap blackmail please!
Ebun-olu Adegboruwa, Esq.,
16/07/2018.
Lekki, Lagos.
And below is what Joe Igbokwe finally said :
Ebun-olu Adegboruwa Must Hear This!
Yesterday Ebun- Olu Adegboruwa rose to rewrite history by trying to incite the judiciary against me for a matter that has been in the public domain for a while. Ebun wrote that I am insinuating that Gov Nyesom Wike of Rivers State bought his way to the Supreme Court to get justice as if this the first time he is hearing this. The matter has been in the public domain for sometime now about his romance with CJN.
Now let me draw the attention of Ebun Adegboruwa to take notice that this matter is not new. Please Hear what
Hon Chibuike Amaechi said in July 30 2017 in PMIN NEWS, POLITICS:
"The current Rivers State Governor, Nyesom Wike once threatened President BUHARI'S administration with fire and brimstone and now brags to his cronies that he has Chief Justice of Nigeria , Justice Walter Onnoghen and the entire judiciary in his pocket where upon he can manipulate any judgement against him"
Ebun should also try to dig into history as a human rights Lawyer to find out the number of people that were killed during the election that produced Gov Wike in Rivers State and check whether the courts remembered them.
Ebun should also dig out the utterances of this Governor and all his threats to perceived enemies and he is still doing so till date. NIGERIA is not a banana Republic.
Lastly, I implore Ebun not confuse himself with my position as Lagos APC Pub.Sec and my life as a writer which dates back to the early 80s. When I hold my own opinion you should take notice and when I speak as APC Pub Sec you should also take notice and be ab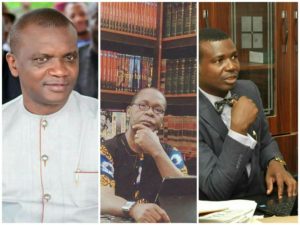 le to differentiate. I am done sir.
Meanwhile, Rivers state governor, Barrister Nyesom Wike, has declared that what transpired during the Ekiti governorship election is the worst political robbery in the nation's democratic history.
Governor Wike then said the APC-led federal government will not be able to replicate the Ekiti political robbery in RIvers State