Mace theft.
Senate President, Dr. Abubakar Bukola Saraki, has vowed that the government will get to the root of the assault on democracy occasioned by the theft of the mace on Wednesday during a plenary.
He commended the leadership and all members of the Senate for standing up firmly in defence of democracy and the rule of law.
He said this was evident in their decision to defy those who orchestrated an attack on the Red Chambers of the National Assembly, during which the mace was forcefully taken away.
A press release signed by his Special Adviser (Media and Publicity), Mr. Yusuph Olaniyonu, noted that Saraki spoke from Washington, D.C. where he is attending the Spring Meeting of the World Bank/International Monetary Fund.
Saraki also lauded the swift reaction by the leadership and members of the House of Representatives in demonstrating their solidarity with the Red Chamber and thereby sending a strong signal that enemies of democracy and those who want to undermine the legislature will be resisted by all parliamentarians.
The release added, "I have just been informed that some hoodlums invaded the Senate chambers, forcefully taking away the mace and assaulted some of our sergeant-at-arms on chamber duties.
"I am delighted that the Senate stood up to them by disregarding their unreasonable and shameful action and went on with the day's proceedings as slated in the Order Paper.
"My commendation goes to my deputy, Senator Ike Ekweremadu, other members of the leadership, my colleagues, the leadership and members of the House of Representatives for standing in defence of democracy, parliamentary sanctity and constitutionalism.
"With the way the Senate has defied those seeking to undermine it, we have sent out a strong signal that we are always ready to defend our constitutional mandate and nothing will deter us from this.
"I associate myself with the comments of the Deputy Senate President that we are ready to get to the roots of this assault on democracy and ensure that those who are responsible, no matter how remote, will be brought to justice."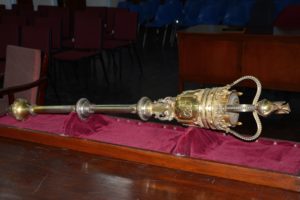 (Dezmayorz)Watch the video below.