Ohaneeze.
The President General of the Igbo's Social Political Group Ohanaeze Ndi Igbo Dr Nnia Nwodo has been Suspended .
His Suspension followed the outcomeof the 7man Investigative Panel set up to Investigate the Activities of the President General .
Below is a Copy of the Report as made Available to PUO REPORTS .
With the 7-Day ultimatum given to the embattled President General, Ohanaeze Ndigbo Dr. Nnia Nwodo, having expired and having had him instead of clearing his sullen hands from the weighty allegations of highhandedness and turning Ohanaeze Ndigbo into a political appendage party for those that could pay and pick his greedy bills – the main issue why he  was asked to clear his names – to even given order that he has no constitutional rights to do calling for termination of leadership and  elections into the Youth and women wings for querying him for his gross antisocial behaviours.
We, the well meaning and rightly focused Ohanaeze Youth Wing, OYW under the President General, Mazi Okechukwu Isisguzoro having earlier-on reaffirmed our confidence in our present Executives; hereby, in a joint meeting with Ohanaeze Ndigbo Women Wing, led by Lolo ….as a well guided Igbo citizens having realised that Dr. Nnia Nwodo has become  Eze onyagwana that already crossed the Rubicon of ideological clarity and seemed irretrievably given to dancing naked at the market square with a fasces  infested cloths (see our initially catalogued Nwodo's constitutional breaches in online and print media) hereby reaffirm our faith the service and glory of Igbo nation.
Therefore, we will no longer have Dr. Nnia Nwodo to continue doing his ignoble businesses with Igbo identity and political interests, and hereby arrive at the following decisions; as advised by the 7 Man Investigation committee that Nnia Nwodo failed to appear before, to clear his names which he bluffed:
1. That, we the Ohanaeze Youth Wing, OYW and Ohanaeze Women Wing had for so long tolerated the shameful and debased politics of Chief Nnia Nwodo led Ohanaeze Ndigbo; while he sidelines the various organs of Ohanaeze Ndigbo including Ime Obi and his 24 – man led EXCOS that are there to represent their various localities and States and having relegated them to the backgrounds to getting little or no attention from their respective state, socio-cultural and political constituencies; and charters of offices and demands.
We hereby find Nwodo loathsome and guilty of anti-Igbo politicking and badly moneyed-Igbo polity killer-character that in the first circumstance had no role for political and social services not just Ndigbo's. Having failed to appear before the 7 man panel to clear himself of all the weighty gross breaches of office and constitution of Ohanaaeze Ndigbo, we take the Investigative Panel's submission that by so doing he seens to have nothing to prove wrongs as catalogued against him by Ohanaeze Youth Wing; Chief Nnia Nwodo is hereby suspended and should not be seen around Ohanaeze Ndigbo secretariat nor operate by proxy! He remains suspended!
2. Having seen Chief Nnia Nwodo wanting in character, intelligence and public image-making befitting the Igbo's apex body Ohanaeze Ndigbo; and holding vital evidences on how he have been collecting and hunting for monies at the expense of the Igbo nation, Biafra and Nigeria plights, from one government house to another and as well with Nwodo been at the becks and calls of the money-bags/politicians doing errand boy Ohanaeze Presidency. Nwodo remains suspended!
3. That Nnia Nwodo occupies the vintage Ohanaeze Ndigbo presidency and still talking from both sides of his mouth to soiling the preeminent Ohanaeze concept, not just Ohanaeze Ndigbo, leading to our earlier calls for him to give accounts of his stewardship but he instead of taking the ample  opportunity to clear his mess, took to media charades announcing that Ohanaeze Youth and Women wings, were long suspended and there would be elections for the new leadership to pilot their affairs. Nwodo, remains suspended!
4. Assuming without conceding that there are no functional Ohanaeze Youth and Women wings while we have Nwodo's almighty Ohanaeze Ndigbo as made known to the media by the non-functional, but now politically romanced and activated, Secretary General Ohana.
4. Assuming without conceding that there are no functional Ohanaeze Youth and Women wings while we have Nwodo's almighty Ohanaeze Ndigbo as made known to the media by the non-functional, but now politically romanced and activated, Secretary General Ohanaeze Ndigbo, Mazi Uche Okwukwu, whose names have been missing in Ohanaeze records of Secretary general duties courtesy of Nwodo's both in media klieg lights, and host of vital Ohanaeze activities and policy statement; to now alleging that Ohanaeze Youth Wing and Women wing have respectively ceased to exist nor have leadership since 2016 and 2017 is a bad tales in their mouth  telling well that what we have is Ohanaeze Ndigbo, not for the Igbo's but for the conmen and political misfits' – if not a one man (Nwodo's) show!. Nwodo remains suspended!
5.  That Nwodo's Ohanaeze Ndigbo-misrepresented are now calling for elections in both Ohanaeze Youth and Women wings with promising threats of selling forms to gullible aspirants is another political mischief showing gross case of maladministration and intolerance of opposing views with the sole intent to dismember the youth and women wings, more. . While this remains condemnable, we shall resist this Nwodo's sham with the last drops of our bloods till Ohanaeze Ndigbo is rescued and reorganized with a National Acting Steering Committee in-charge and we call upon the Igbo leaders of thoughts especially the matured minds and notable Ime Obi, Ohanaeze leaders namely Prof Ben Nwabueze, Chief Mbazulike Amaechi, Dr. Dozie Ikedife, Prof Amuche Azi, Dr. Kate Onwe, Chief Ralph Obiaoha, Chief Obi Nwaka, Engr. Isaac Wowu, Richard Ozobu, Rear Admiral Ndubuisi Kanu to come to Ohanaze Ndigbo's rescue
6. Retrenching on Vi, above it has gone innumerable miles proving that ,Chief Nnia Nwodo is power drunk and has barefacedly rendered Ohanaeze Ndigbo immobile; otherwise how could Youth and Women voices be respectively silenced because of the mockery Ime obi suspension he hurriedly facilitated without publicity, held in a hotel room in Enugu in 2017 not in Ohanaeze Ndigbo Secretariat? That Ime Obi was disgustingly impersonated by Nwodo Committees of friends has seen such outcome without any publication to that effect till date. More worrisome but derisory is the agreement Ohanaeze Women wing no longer exists, too because, according to Nwodo their Executives' Committee allegedly expired since 2017? Why now that the youth and Women wings of Ohanaeze Ndigbo opened up on Nnia nwodo's barefaced politics of highest bidder, we shall serve and we are not favourable disposed wanting a generalissimo Ohanaeze Ndigbo Presidency, that Nnia Nwodo suddenly woke up from his slumber? Why now that we say a VEHEMENT NO to Nwodo attempting to conscript the Youth and Women Wings into the foot soldiers a political camp he is favourably disposed to its Northeast presidential aspirant that Nwodo shameless posied to citing that the two wings have no leadership nor exist? We hereby find Nwodo loathsome and guilty of anti-Igbo politicking and badly moneyed-Igbo polity killer character that had no role for political and social services not just Ndigbo's. He remains suspended!
7. When did it occurs to Nwodo's Ohanaeze Ndigbo charade and politics that there have been no youth and women wings in place and he was comfortably disposed to such and now that we condemned his politics of forceful conscriptions of the Igbo nation and especially Ohanaeze Youths and Women to support his Northeast presidential aspirant that we do not exist or have leadership?
We say never again that we gamble in another presidential polls because,; while we join other ethnic nationalities craving for a no-hold barred Nigerian national conference  we also feared for the long project; Igbo Nigerian presidency that would be plausible only if no one like Nnia Nwodos lead us into another political cul de sac likeable to upset Northern interest i.e. a repeat of 2015 misreading of presidential polls. We also believe that A ga-akpa ya, akpa, for us to decide between the incumbent President Buhari and any other presidential hopeful; which is not Nnia Nwodo's to selfishly hooked Igbo nation into his Nwodo's family political alliance that led to throwing his brother, Chief Okwesilieze Nwodo away as Peoples democratic Party, PDP, national chairman for hobnobbing and attemting to impose the same presidential aspirant from Northeast, that Nnia nwodo presently slaves for.. Nwodo, therefore remains suspended!
8. That Nnia Nwodo speaks from both sides of his mouth while at the same time claiming to represent the pan social ideals of Ohanaeze, leading to Ohanaeze Ndigbo organizational frameworks, is verily worrisome and too poor expected of any person that occupies such vintage post of Ohanaeze Ndigbo leadership. That Nwodo speaks differently in different foras on Igbo politics, Biafra restoration and inequalities in Nigerian nationality to now conscripted himself "minister of restructuring" without consulting his Igbo people because a Northeast presidential aspirant now picks his bills and any Igbo not thinking in the same direction with him is in his Ohanaeze Ndigbo's Black book. This has been the plights of the Ohanaeze youth and women wings. . for this, Nwodo remains suspended and ceases to represent Ohanaeze Ndgbo and Igbo nation in any capacity!
9. Conclusion: Having had the Ohanaeze Youths and Women Wings met and agreed on the above positions outlining the bases on which we find Chief Nnia  Nwodo wanting and having desecrated his office and been at great disservice to his primary nationality, Igbo and dragging Igbo's identity to the mud's; and having seen such repeatedly occurring  as part of Nwodo tradition since he came to power and his sham presidency.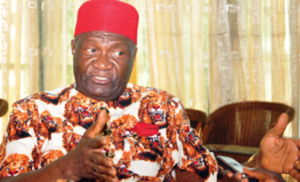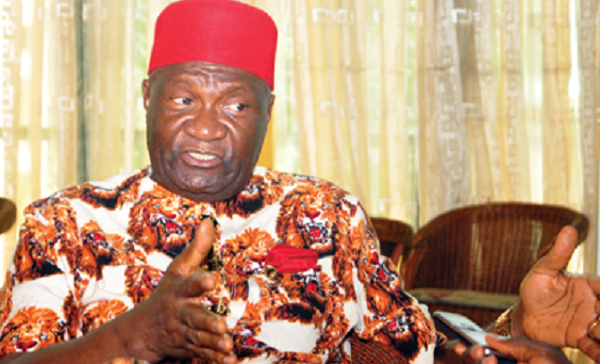 Having had him instead of responding to the weighty allegations of shortchanging Igbo nation and running Ohanaeze Ndigbo as a generalissimo to  even messing up the Igbo nation saying that he has been comfortable without Ohanaeze youth and women wings to even attempting the impossible throwing the youths and women into a disarray saying they do not exist nor have a leadership, we the youth and Women Wings in this joint meeting hereby disassociate ourselves from whatever Chief Nnia Nwodo is doing, be it his sham Ohanaeze presidency or call for change of leadership. He is to us a has been President General  of Ohanaeze Ndigbo and we bid every other Igbo nationals to so consider  him same for he is no longer the president of Ohanaeze Ndigbo and he stands suspended; and thereby, with extension to his political brigade-boys Ohanaeze Ndigbo Executives till peace and mutual respects for institutional order, measures and respects is seen returned to Ohanaeze Ndigbo's;
Dated: April 7, 2018
Mazi Okechukwu Isiguzoro                     M
President, Ohanaeze Youth Wing
Mazi Okwu Nnabuike
Secretary General, Ohanaeze Youth Wing
Engr Obinna Adibe
National Pro
Ohanaeze Youth wing
Chief Hon. (Mrs) Calista N. Adimachukwu,
President General,  Ohanaeze Igbo Women Organisation,