Exbrown E.
EXBROWN E : This picture of Exbrown E with his family will amaze you.
One of the Nigerian highlife singer – Exbrown E pose a tip notch photo of him with family (his Father and brother -Dozman). This is the first time Exbrown is seen on agbada (Babariga).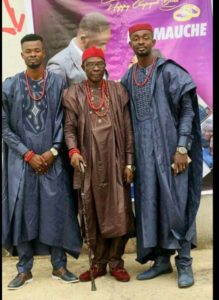 Exbrown E (aka Nwa afo) is known with the song he did with Kelly Hansome titled -No competition and.
Enjoy the video below.