Traditional rulers.
Nigeria is a country with lots of ancient customs, long ago its territories were ruled by kings. In a certain degree, this tradition survived to this day. Find out who the richest monarch in Nigeria is as Dez Mayorz released the list of richest monarchs.
The royal rule existed on the territory of Africa long before European colonization. The villages and communities were controlled by kings. Today, throughout the continent, a full-fledged constitutional monarchy is preserved only in Morocco, Swaziland, and Lesotho. Despite the fact that democracy reigns in Nigeria and the president is regularly chosen, the tribute is still paid to kings. They are highly respected people. We invite you to find out interesting facts about the first class kings in Nigeria.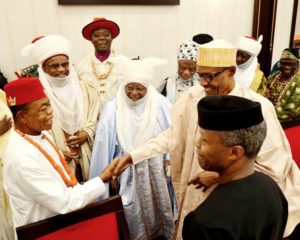 1. Oba Obateru Akinrutan
For now, this man is recognized as the richest king in Nigeria. He is the Olugbo of Ugbo land, the community in Ondo State which is distinguished by the presence of oil deposits. According to estimates, Akinrutan's net worth is $300 million. His reign began in 2009.
He founded Obat Oil, an oil trading company which is one of the largest enterprises in its segment. This project started in 1981 with a single gas station used by his family and the neighboring community.
Much has changed since then because now the businessman has more than 50 stations throughout the country. Akinrutan's tank farm is considered to be one of the biggest on the continent. 65 million liters of oil can be stored in it simultaneously.
Akinrutan became the first black man to buy Bentley in 2014. He concluded a purchase deal in 2012 even before the official release of the car. He also has Rolls-Royce that looks exactly like the English queen's car.
This talented entrepreneur also takes an active part in such spheres as fishing, tourism, navigation, water purification, etc. Delightful talents and startling business savvy made him the richest Oba in Nigeria.
2. Oba Okunade Sijuwade
This Yoruba king is no longer among the living. However, citizens of Nigeria will long remember him because Sijuwade was one of the richest monarchs. His net worth is estimated at $75 million.
During his lifetime, Sijuwade was interested in the oil business and real estate. He had the title of Ooni from Ile-Ife. This place is considered the traditional home of the Yoruba people.
This Oba founded the Sijuwade group and was the host of the Motel Royal hotel.
3. Obi Of Onitsha
Nnaemeka Alfred Ugochukwu Achebe is a traditional ruler of Onitsha, Anambra State. He was born in 1941, worked in the banking industry for a long time and also served as executive director of Shell Petroleum Development Company.
He is chancellor of Ahmadu Bello University. He was educated in America, has degree and masters from Stanford University and Columbia University.
4. Sultan of Sokoto
Muhammadu Sa'ad Abubakar IV is Muslim leader in Nigeria which makes him not only an important monarch but also a high-status religious person. Also, he is co-chairman of Nigerian Council of Traditional Rulers.
5. Emir of Kano
The merits of this man include intensive academic activity. He also previously served as governor of the Central Bank of Nigeria. Currently, Mallam Muhammad Sanusi heads the entire Kano Emirate. He became ruler in 2014 after the death of his predecessor Alhaji Dr. Ado Bayero, who held the post of the monarch for 51 years.
6. Alaafin Of Oyo
Lamidi Olayiwole III was crowned in 1970 after Alaafin Gbadegeshin Ladigbolu II left the throne. He was an insurance clerk and boxer before coronation. Lamidi achieved the post of the pioneering Chancellor of the University of Sokoto which was assigned to him for 12 years. Lamidi issued memorandums concerning university education, dealing with significant problems of that time. This monarch devoted many efforts to the development of culture.
In 1990, at the behest of the federal government and General Ibrahim Babangida, he was appointed to lead muslim in the 21 states of the country.
7. Oba Adeyeye Ogunwusi Eniitan
This monarch was born in 1974 and came to rule after the demise of Oba Okunade Sijuwade who is ranked as the 2nd richest Nigerian king in this list. For a long time, Oba Eniitan worked in real estate and accounting. At the moment, he is the 51st person to ascended to the throne of Ooni of Ife.
8. Etsu Nupe : Alhaji Abubuakar Yahaya.
The king with the human heart. Chairman of Niger State Council of Traditional rulers, Chairman National Council of Traditional Rulers of Nigeria. Chairman -National Mosque coordinating chairman. His Nupe Day celebration is always unique.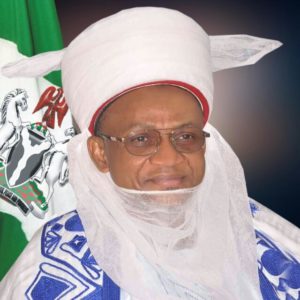 9. Oluwo of Iwo
Emperor Telu I. Oba Abdulrasheed Adewale Akambi, the Alase Lori Or is a in Yoruba Land. Also known as the Flamboyant traditional ruler.
10 Appolus Chu
The royal throne of Eleme Kingdom @Appolus Chu, the Egbere -emere Okori 1, whose Palace is full of gold.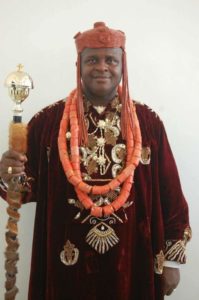 11. King Ateke Tom.
The king of Okochiri in Okrika land is doing great since his coronation bringing peace and unity in his land.
12. King Edmund Maduebebe Daukoru
CON, DIC. king in Nembe, Bayelsa State.
13. HRM Owong Effiong Bassey Achianga.
JP, FCE, he is the Akwa Ibom Ibeno, Udammung 1 of Ibeno Land. The paramount ruler of Ibeno LGA. chairman of Traditional Rulers in Oil and Minerals producing State (TROMPCON).
14. Emir Sanusi .
15. Eze Chukwudi Ihenetu.
Eze ndi Igbo na Ghana.
16. HRM EZE CLETUS ILOMUANYA
the Obi of Obinugwu. His new yam festival is always remarkable.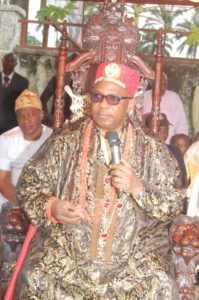 Did you king and your favorite monarchs made the list? Fell free to comment or contact us via Dezmayorz@gmail.com or call – +2348035586768