Oluwo of Iwo.
The Oluwo of Iwo, Oba Abdul-Rasheed Akanbi, has denied adopting the title of an emir, contrary to media reports.
Speaking through his media aide, Mr. Ali Ibrahim, in a statement issued on Sunday to Dez Mayorz,  the Oluwo explained that he had never dropped the title of an Oba for an emir.
The monarch has been dressing like an emir and wearing turban occasionally and he again wore the turban on Saturday when he installed Yakub Abdul-Baqi Mohhamed the Waziri of Yorubaland in his palace in Iwo.
He installed the Waziri, allegedly despite the warning given to him by the League of Imams and Alfas in South West, Edo and Delta states, that he had no such powers to confer an Islamic title, which cuts across the entire South West, on anybody.
The statement read, "Oluwo has never adopted the Emir title; he only said he could also be called an Emir by the Hausas and ardent Muslims Oba Akanbi is an Oba for the nation, with special attachment to the Yorubas. He promotes Yoruba culture to the admiration of many youths.
"Just because of Oluwo dress code today, many children are attracted to Yoruba culture of wearing aso ofi.
"I said so (reference to being an emir) to integrate Nigeria nation as an indivisible entity. All working tools are available for the integration.
I 've visited the North several times. Core Hausa hardly pronounce Yoruba words correctly. They call me emir when I am with them. Is there anything wrong in answering to such?.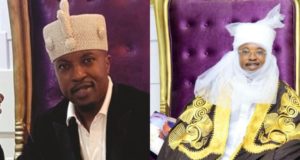 "Even, the Hausa in Iwo here call me emir. Will I stop them from addressing me as such?
"No, I am a father to the nation, being a first-class paramount ruler.".
DezMayorz view, there's nothing wrong with Oluwo been referred as Emir, but everything is wrong for Oba to wear and dress like Emir.