Daniel Okwarra.
The CEO of Decent Digital – Mr Daniel Okwara has roared at Newman Ubani (the SA to Abia state government) over an inconsequential criminal act on his laptop (Apple Mackbox PRO).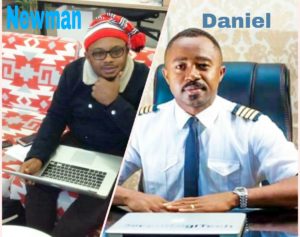 "I gave him my Apple laptop to install Corel Draw. He took the laptop and whisked away with it. I called him on phone, he stopped taking my calls. I reported to the police; they tried to apprehend him, but he ran away to a nearby state Abia State from Port Harcourt. The worst is that he doesn't seize to pose with my laptop on Facebook. This is so painful. This is a new MacBook Pro I bought and haven't even used it. I was still trying to get familiar with the Apple thing. Being a Microsoft user for a long time. And now this happened." -Daniel Okwarra roared.
Guess what?
The Guy. Newman Ubani is now alleged to be an SA to Abia State governor.
"I need my laptop. Anyone that knows Newman Ubani should tell him that I need my laptop.  All efforts to get him has failed. In fact, right now Mr. Newman is denying that he doesn't know me when I got someone to contact him" – Daniel Okwara added.
All Dez Mayorz efforts to hear from Ubani Newman point of view was futile.
Daniel Okwara is a philanthropist loved by everyone in southern Nigeria (south East and south South) and Lagosians that 72% of people of Imo state want him to contest as the governor of the state…..
Daniel Okwara is a genuine young man who doesn't tolerate inconsequentials and dubious act. Had if Ubani Newman pleaded to have the laptop to himself, Flamboyant Daniel Okwara would have dashed him, but since he made away with the laptop in a dubious manner. He must return the laptop to the owner with apologies…..so that others will learn that he doesn't tolerate vicious act.
Meanwhile, the police authority are still in serious search to apprehend so called Newman Ubani. Below are the pictures of Ubani Newman.