Oluwo of Iwo.
(Post powered by African Monarchs Magazine -Apostle Vivian Shalom).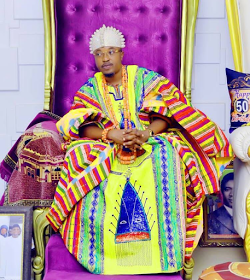 Kabeisi Olowo of Iwo.
In every way and manner you might want to describe him he is loud!
Is it in the way he talks or what he says? Is it in his way of dressing? Those royal garbs he loves to adorn are what you can describe as "loud for a purpose".
The Flamboyant King. They come in all the loudest colours that comes to mind, be it blood red, sunflower yellow, royal purple, florescent green, awesome burgundy, badass blue, just think of the colour, this King or should we say self styled Emperor of Iwoland is not shy at all! It's like the louder the colour, the more at home and comfortable the king is in wearing the outfits.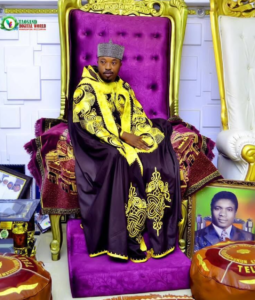 And it's not only just about the colours of the garbs or ensemble alone, even the embroidery and designs on the outfits are not for the faint hearted at all. They are supremely and outrageously dramatic.
And when we say ensemble, we mean that it is a complete garb, which includes his pair of colourful shoes too, his royal staff bedazzled with crystals and with the big bird on it shining proudly for all to see, and even the crown is not left out at all emblazoned in Swarovski crystals and they come in all colours too. And lest we forget, even Kabiyesi's sunshades are also loud too! It's like everything about him is deliberately made to make a statement, some would even say to intimidate!
At least we are glad, that the days of drama, when royal fathers used to command so much attention and respect is back again! Not only does the OLUWO of Iwo, the self styled Emperor of Iwoland, Oba AbdulRosheed Adewale Akanbi, Telu 1, the "Alashe Lori Orisha" meaning the "grand commander (authority over) of the gods"; the gods here referring to the ancestors who were once alive and have died and have gone on to become influences over and above the living (that's how he himself explained it).
The title doesn't just end there, it goes on as the "Asoju Eledumare" meaning the "Special Envoy" or the "Very Representative of the God", the Natural Paramount Ruler of Iwoland, even his own rendition of his own titles is sagacious to say the least.
For you to even better understand it, even the King's wife, who is Jamaican born and who is the King's number 1 accessory, a proper eye candy we dare say that's by virtue of what she also adorns is also always the cynosure of all eyes when she and her husband goes out together or are seen out together.
So is this King (Oba)/Emperor Nigeria's most flamboyant/colourful king by all standards?
Contact Dezmayorz.org -+2348035586768.