Ijaw Nation.
This post is compiled by African Monarchs Magazine publisher (Vivian Shalom).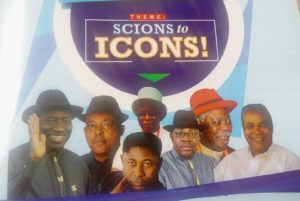 Ijaw Republic (Patriotic front) IRA-PF
In collaboration with
Ijaw Media Action Iniative(IMAI)
presents
HEROES OF IJAW NATION AWARD NITE
with the theme :
SCIONS TO ICONS.
Goodluck Eberechukwu, Senator Ben Bruce, Dame Patience Jonathan, Mr Jack Rich Tein, HRM Diette Spiff, Hilda Dokubo, others harnessed big at the Award night.
The event was held on 3rd February, 2018 at Main Banquet Hall, Hotel Presidential Hotel, Port Harcourt, Rivers state. Under the distinguished chairmanship of Alabo T. O. Graham Douglas.
Welcome address was given by Alatubo Charles Harry (president Ijaw Republican Assembly -Patriotic Frinte(IRA-PF). followed by opening remark presented by Alabo T. O. Graham Douglas.
The keynote was addressed by HRH prof D. M. J. Fubara. The Royal majesty encouraged Ijaw people to always maintain their good leadership attributes and work towards Patriotic betterment of Ijaw people. "Amnesty programs is never the solution of Niger Delta problem, we need a truthful body of United Niger Delta republic." he also blasted Prof El Rufai for saying offshore and onshore belongs to Nigeria at the center and never Niger Delta. Without the coastal states ( Niger Delta and Ijaw Nation ),
Nigeria can not boast of their right of oil producing state in the global map. "Without restructuring, Nigeria will sink"-he warned.
Below are the full list of awards and awardees  2017.
POST HUMOURS AWARDS :
chief Herold Dappa Biriye
Chief Ekene Ukot
Chief P. G. Warmate
Chief Nabo Graham Douglas
Dr Denni Dima Fiberesima
Chief G. K. J. Amachree.
Senator Tari Sekibo.
LIFE TIME AWARDS:
HRM King Alfred Diette Spiff
H. E. Chief Rufus Ada George
H. E. Dame Patience Jonathan.
H. E. Gabriel T. G. Toby
High chief O. B. Lulu Briggs.
Chief Albert K Horsfall
GRAND AWARDS:
Ijaw man For All season – H. E. Dr Goodluck Jonathan (GCFR).
Ijaw governor of the year – H. E. Henry Seriake Dickson.
Ijaw legislator of the year -Senator Ben Murray Bruce.
Distinguished Friend of Ijaw – H. E. Nyesom Ezenwo Wike (CON).
STERLING AWARD -ijaw Man of the year -Mr Jack – Rich Tein Jr.
MERIT AWARDS.
Ijaw politician of the year – Prince Uche Secondus.
Ijaw journalist -Ibiba Don Pedro.
Ijaw legal luminary – Anthony Goerge Ikoli
Ijaw finance – Amb Induz Idaere Ogan.
Ijaw Entrepreneur – Sokipri Graham Douglas.
Ijaw motivator – Hilda Dokubo.
Ijaw Youth -Sukubo Sara – Igbe Sukubo.
Ijaw activist – Onengiye Erekosimo and Clara Ngeribika.
Ijaw legislator – Dr Farrah Dagogo.
INC woman-Rose Obuoforibo.
For more info contact Dezmayorz.org and African Monarchs Magazine via +2348035586768.
Check some of the pictures from the event.