Subsidy: Learn A Skill And Add To What You Studied In School – Chike Nmerukini Tells Nigerian Youth
– Received his prestigious DMOMA Award nomination letter.
– Said the Mayor of Port Harcourt, Sir Allwell Ihunda's administration is performing well.
Dez Mayorz news.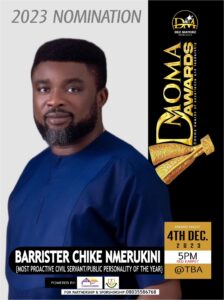 The Head Of Administration and General Service/ Head of Personnel Management at Port Harcourt City Council, Barrister Chike Nmerukini has encouraged all the Nigerian youths to learn skilled work and add to what they do.
This he told newsmen in Port Harcourt while receiving his nomination letter from the organizers of the prestigious DMOMA Award; have been nominated as the Civil Servant Personality of the Year in Nigeria.
Chike Nmerukini Esq. told the Youth to be proactive and learn more skills to help them curb the impact of the fuel subsidy removal in Nigeria.
Speaking on his humanitarian support for his constituents and beyond, he said:
"Giving is the thing of the heart, I plan for it, I save for it, and achieve it.
Putting smiles on people's faces gives me joy."
Barrister Chike Nmerukini went further to commend the administration of Sir Allwell Ihunda, the Mayor of Port Harcourt.
Said the entire council will continue to support his impactful and people-oriented projects in Port Harcourt City Local Government.
Attached is the video of the exclusive interview with newsmen In Port Harcourt.
02/08/2023