Rivers Guber Debate: Dumo Lulu-Briggs Shines As He Pragmatically Stated His Plans For The Rivers People.
Dez Mayorz Report.
The Accord gubernatorial candidate for Rivers State governorship election, Dumo Lulu Briggs shines at the just concluded NUJ debate in Rivers State with his pragmatic and honest approach towards answering questions at the debate.
The viewers were pleased with the plans Dumo Lulu Briggs has for the people which he has already made available in his Manifesto and manifesto book.
DLB well talked about Minifesto is aimed to restore prosperity to all in Rivers State by laying the foundation for an exponential increase in the GDP of Rivers State from its current annual value of $20bn to about $350bn in 12 to 16 years.
According to Dumo in his 26 paged Minifesto, such a monumental vision will require a revolutionary economic programme designed to spark State wide industrialization, production and massive job creation.
Chief Dumo Lulu-Briggs's acceptance by the people in the forth coming governorship election in Rivers State comes March 11, 2023.
Unlike previous elections where two mainstream political parties (APC and PDP) are dominant party, Dez Mayorz Media projects four strong candidates for the 2023 Rivers State governorship election; including Dumo Lulu-Briggs of Accord, Sir Siminalaye Fubara of PDP, Magnus Abe of SDP and Beatrice Itubo of Labour Party.
Dez Mayorz Media statistics as on 15th February, 2023 , shows that 52% of the Rivers State voters are yet to decide who to vote for in the coming governorship election.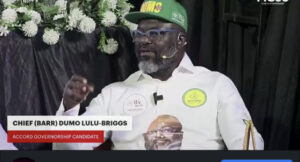 The Accord gubernatorial candidate, Chief Dumo Lulu Briggs seems to be the major beneficiary, to benefit from the political happenings in Rivers State.
The candidates who attended the NUJ Governorship Debate 2023 (Rivers State)
are Dumo Lulu Briggs of Accord, Dawari George of Action Congress, among others.