Rivers 2023: Reasons Why Dumo Lulu Briggs Is Now A Major Contender
ACCORD Governorship Candidate, Chief Dumo Lulu-Briggs''s acceptance by the people in the forth coming governorship election in Rivers State comes March 11, 2023.
Unlike previous elections where two mainstream political parties (APC and PDP) are dominant party, Dez Mayorz Media projects four strong candidates for the 2023 Rivers State governorship election; including Dumo Lulu-Briggs of Accord, Sir Siminalaye Fubara of PDP, Magnus Abe of SDP and Beatrice Itubo of Labour Party.
Dez Mayorz Media statistics as on 15th February, 2023 , shows that 52% of the Rivers State voters are yet to decide who to vote for in the coming governorship election.
The Accord gubernatorial candidate, Chief Dumo Lulu Briggs seems to be the major beneficiary, to benefit from the political happenings in Rivers State.
Most of the undecided voters want to settle for Dumo Lulu-Briggs whom they believed has the capacity and competent enough to govern Rivers State.
Also, some christian voters that wanted to vote for PDP candidate, Siminialayi Fubara are now changing their minds with plans to vote for Dumo Lulu-Briggs or Labour Party candidate since the day Gov Nyesom Wike started drumming support for Bola Tinubu's APC Muslim-Muslim ticket which Christians believe is against their faith.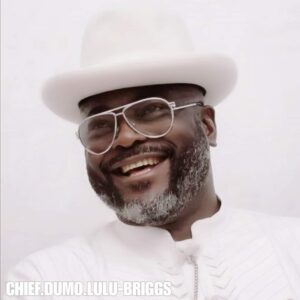 Other reasons that is gaining momentum for Dumo Lulu Briggs according to Ibelieveall blog include;
1. He is the only candidate with a manifesto and an actual plan for all the 23 LGA's. He has layed out the road map to taking our GDP from the paltry 20B to 350B in 16 years by building industries in all 23 LGA's. Link to his manifesto: https://tinyurl.com/2pkuur7n
2. He's the most popular candidate without a Godfather or a boss to influence his leadership.
3. He's the most relatable Governorship Candidate with a long track record of philanthropy, from paying fees of over 200 final year students in Rivers State University of Science and Technology (RSUST), formerly University of Science and Technology, UST, paying bursery to 400 students, donating transformers for Riverine communities, donating to NGOs etc.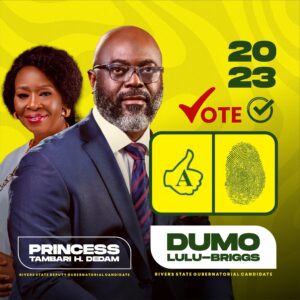 4. He's the most likened to the Labour Party Presidential Candidate, Dr. Peter Obi. Both are loved by the people. Both are successful in their private businesses and have taken an unpopular Party and made it one of the mainstream parties.
5. He's about the prosperity of all Rivers people and the development of Rivers state. As his motto says, "putting the people first", is his agenda.
6. Kalabari people want all the candidates to step down for Dumo Lulu Briggs to enable them have one candidate.
On the 11th of March, Dumo will gain votes massively for Accord ( the first party on the ballot).
Will it be enough to make him win?
The people will decide.