All Rivers Youth Calls On Hon. Felix Obuah To Declare For Governor 2023.
– Vow to sue him, failure to declare for 2023….
A group known as 'All Rivers Youth' converge from all the LGA in Rivers State and mandated the 'DMOMA Awards Humanitarian philanthropist of the year', Bro Felix Obuah to declare his interest for 2023 gubernatorial election in Rivers State.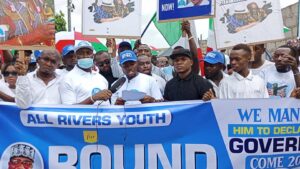 The proactive group earnestly seek for the empowerment master to contest for the governorship office in Rivers State. Vow to sue him if he didn't declare before end of April.
In a press statement read to the press-men by the group cordinator, Comrade Njoku Damian Ebere, he refers bro Felix Obuah as a youth friendly man with proven capacity and integrity to succeed Governor Nyesom Wike comes 2023.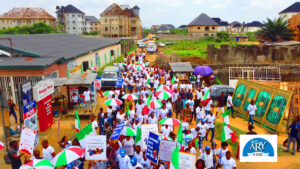 Below is the press statement read to Dez Mayorz Media and other news men;
"The Executives and members of All Rivers Youth in the 23 Local Government Area of Rivers State use this medium to congratulate the performing governor of Rivers State, His Excellency Governor Nyesom Ezebunwo Wike who has raised the standard of living of Rivers people and residents in Rivers State through his numerous manpower and infrastructural development.
As a government that has performed excellently well, we equally need a man with proven capacity and integrity to succeed him come 2023.
It is on this premise that we earnestly call on the youth friendly leader Hon. Felix Amaechi Obuah , the former chairman of Onelga, the former chairman of the people's democratic party (PDP) Rivers State chapter,
a philanthropist with a difference, a business mogul, a developer of men and women, an employer of labour and one of the talent uplifters in the world, the CEO of more than 48 companies with youths gainfully employed and established across the state.
The chairman of GO-ROUND football club, The GO-ROUND community, The GO-ROUND stadium.
The victorious and never lost election immediate past chairman of the PDP Rivers State chapter, the best organizer of events, the man whose influence cut across party line,
the one and only Mba anabara agu 1,
to declare interest on the Bricks House comes 2023 under the platform of the people's democratic party (PDP).
His emergence will sustain on the life legacies of the. current administration in the state.
Mba anabara agu 1 of Rivers State, we earnestly await for you come 2023.
We will file a suit of you fail and break the heart of millions of Rivers people if you didn't declare or declare late.
We mandate you to take declare for 2023 gubernatorial election in Rivers State.
ARY!
TOGETHER WE GO-ROUND! "
The group also came with, PDP flags, umbrella and placards reading:
'DECLARE NOW FOR 2023 GOVERNORSHIP."
"IT'S TIME TO GO-ROUND RIVERS STATE."
"GO-ROUND FOR RIVERS YOUTHS."
"EMPOWERNMENT MASTER DECLARE FOR 2023 NOW."
The Rivers State former PDP chairman is yet to declare or say that he wants to run for any office in Rivers State, but All Rivers Youth (ARY) are seriously mandating him to do so.
Dez Mayorz Report.