A fatal accident involving a Lexus RX 350 and an articulated vehicle (trailer) has killed two persons on the spot. The accident occured between Effutor and Ekiugbo junction, along the East–West road.
The accident happened about 1pm between Effutor and Ekiubo junction in Ughelli, Ughelli north local Government area of Delta State, a black coloured Lexus 350 with registration number BWR-975-CK rain to station trailer the Lexus coming from Agbarho heading towards Ughelli while the stationary trailer was by the road side.
Eyewitnesses said the Lexus jeep with four young boy's suspected to be Yahoo boys, rand into the stationary trailer and crushed two to death.
The deceased were to be welder's and Mechanic's working on the broken down truck before they were crushed by the reckless Yahoo boy.
The scene is a horrible one as human parts and blood littered all over the road.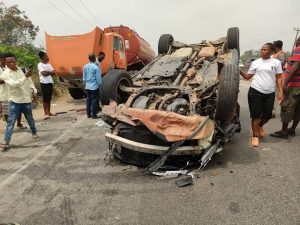 The occupants of the jeep were rushed to the Ughelli centra hospital while men of the FRSC were on hand to help control traffic and evacuate the corpses.
Culled from: Journalist 101