Security Personels Shot At The Air To Disperse Massive Crowd in Buguma Carnival For Everyone Safety.
The people of Buguma in Rivers State experienced a wonderful New year celebration and carnival, as the people came together to enjoy the festive season under the sponsorship of Amb. Okarinama West.
The carnival was filled with fun and massive crowd.
The unique event at King Amachree Square, Buguma, was peaceful through out. until it was halted during Teni's music performance at the Buguma carnival, as a result of overcrowding, as people fight over another in other to move to the front to get a better look at Teni's performance, with media personels and people climbing the stage which obstructed people's view especially those at the back.
Speaking to Dez Mayorz Media, one of the organizers of the carnival, T-God Williams (Holy Shrine), said that there's no any cult activities at the carnival.
That organizers are the ones that told the security men to shoot at air to disperse the crowd in other to protect Teni and people, hence avoid stampeding as a result of the massive crowd.
"The carnival was a peaceful one, the media personels and crowd rounded the event and the stage during Teni's music performance, as a result obstructing people's view especially those at the back.
This led to the people fighting one another in order to get a better view of Teni's performance.
Some fans started throwing up some bottles and stones, and the situation started to become unbearable.
With our experience, to avoid stampeding and control the situation to safe guard Teni and the people, we asked the security personels to disperse the crowd which they did with some gun shots.
No any cult boys or any other person shoot gun at the carnival event except the security men we asked to.
No one died nor kidnapped at the carnival as peace and norm have returned to Buguma city" – Holy Shrine said.
Teni gave Rivers State people a kiss before leaving the event.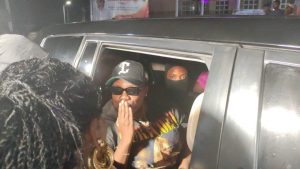 Dez Mayorz Report.
Watch the video below.