Catholic Church In Eagle Island Port Harcourt Set For 2022 New Year Anointing And Adoration.
Church of the Ascension, Andoni Sandfield, Eagle Island, Port Harcourt will be having a
'NEW YEAR ANOINTING AND ADORATION CAMPAIGN 2022' with the theme 'A Year of Favor From the Lord (Isa 61:1-5)'.
Dez Mayorz Media gathered in the church artwork signed by the Parish priest, Fr Francis Tete that the spirit filled program will hold from
Sunday 30th January, 2022 to Friday 4th February, 2022. 5.30 pm Daily.
Featuring: Mass, Adoration, Worship, Intercession, Declarations, Confession, Reclamation and Anointing.
Below is the daily topics for the week program.
DAY 1: Come Let Us Adore Him our Maker Ps 95.6-7, Isa 2.3, Ps 122.1
DAY 2: This is the worship that I desire Hos 6.6
DAY 3: Here I am Lord, I come to do your will Heb 10.9
DAY 4: I give you every place you set your foot Josh 1.3
DAY 5; Instead of Silver I give you Gold Isa 60.17
DAY 6: A Year of Favor From the Lord, Isa.61:1-5.
Be there!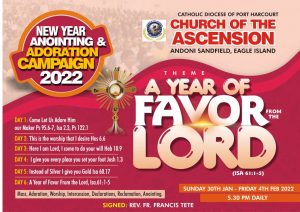 p