Get Your PVC Ready Now – Sir Allwell Ihunda Tells Diobu People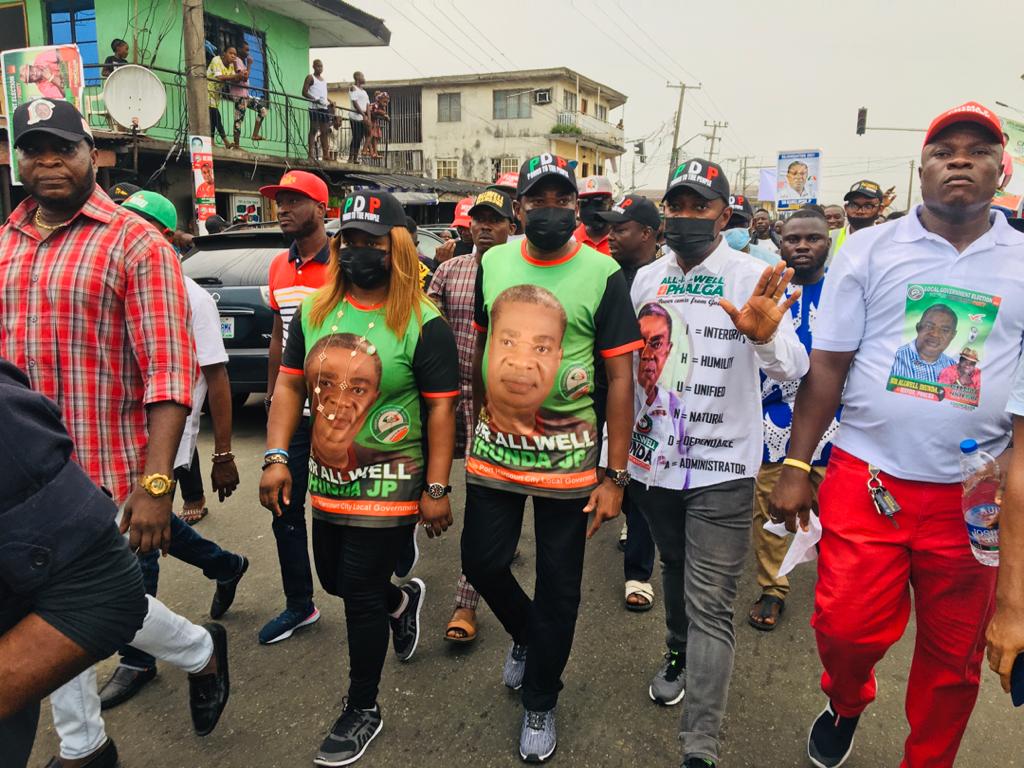 Rivers LG Election: Get Your PVC Ready Now – Sir Allwell Tells Diobu People.
– Continues his ward to ward campaign in ward 11 and 12.
– Get massive endorsement from Rumuwoji Community women and market traders.
Dez Mayorz report.
The People's Democratic Party candidate, Hon. Sir Allwell Ihunda and his deputy, Tamunotonye
Douglas and Local Government election campaign continue the Ward to ward PDP Campaign ahead of the April 17, 2021 LGA election that happens every three years in Rivers State, to elect chairmen and ward councillorship into the 23 and 319 LGA council and wards councillorship seats respectively.
The People's Democratic Party, PDP, campaign team in PHALGA intensified their campaign as they visit ward 11 and 12 in Diobu axis of Port Harcourt City.
The campaign was an energetic, lively, entertaining and rejuvenated outing.
The campaign team visited the good people of PHALGA Ward 11 and Ward 12 to sensitize and solicit for their votes in the forth coming April 17th local Government elections.
The campaign group also visited Rumuwoji market traders and Rumuwoji Community women.
The Diobu people promised to vote for the PDP as they asked the incoming Mayor to effectively involved them in his administration.
In his speech mixed with Ikwerre and English language, Sir Allwell Ihunda appreciated the wards for their continuous support for PDP since 1999, tells the Diobu people to get their PVC ready now and not to wait on election day to avoid escuses.
He stated that his Government will strongly be committed towards improving the livelihood of men, women, youths and non-Indigenes of Port Harcourt City LGA through his people oriented programs like entrepreneurial development, job opportunities and empowerment programmes, Etc.
Sir Allwell Ihunda praised Gov Nyesom Wike great projects in Port Harcourt City, commends the Diobu people for working with the state government that brought peace and security in the area.
He called on the people to reciprocate the good roads, peace and security they are enjoying in Diobu by mobilising and coming out en mass to vote PDP.
He further promised to work harmoniously with his Councillors
Chinedu Kingsley Wobo (ward 11) and Chima Reginald Nsiegbe (ward 12) and other Councillors accordingly.
Addressing the campaign ground, the chairman of the campaign team, Hon Sonny Ejekwu (Rivers State Commissioner for chieftaincy) said that APC led federal government have failed Nigerians in total, insecurities worsening.
Sir Sonny Ejekwu praised PDP as the best party in Nigeria.
He commends Governor Wike for construction of all the internal roads in Diobu, says Rivers State now have infrastructures and Flyovers like that of Abuja, which is attracting investors to the State.
Former House of Representatives member, Hon Blessing Nsiegbe charges her ward people to come out and vote en mass and ensure they vote PDP appropriately to avoid bored5 nullification.
Goodwill messages were also given by the Chairman of the Party in the LGA, Engr. Solomon Ogbonna (before presenting the Candidates to the people); alternative chairman of the campaign Council, Sir Ken Chinda, Rector Captain Elechi Amadi Polytechnic, Dr Sam Kalagbor; Hon Chimeka Nmerukini, Hon Orukwem Amadi- Oparaeli, Chief (hon) Chiyerum Amadi-Oparaeli, Hon Dr. Graham Chibeoso Nsiegbe, Bob Abayomi, Hon Okechukwu Orlu, Dr George Opuda, and other party stakeholders.
Rumuwoji Community women and traders all promised to support Sir Allwell Ihunda and vote for him.
The campaign ended blissfully as people keep shouting
'All is well in PHALGA'!!!
Okoye Chidiebele Stephens,
Dez Mayorz report.
1/04/2021.