It's Hightime The Listening Gov Wike Fix Omuma, Oyigbo, Tai and Other Community Dipilated Roads.
The Rivers State Governor, Gov Nyesom Ezebunwo Wike has shown Statemanship recently. He demonstrated his ability to listen to the people in the just concluded dispute between the organised Labour and the State government.
Now, it's hightime Governor Nyesom Wike extends his listening hears to the cries of the people in the rural community of Rivers State and fix their bad roads.
That doesn't mean that the state Government are not doing some roads in the rural community, but there are still some major roads in the rural community that is in state of jeopardy.
The Omuma, Tai and Obigbo Roads are very bad and need urgent attention.
A Catholic priest of the Catholic Diocese of Port Harcourt, Rev. Fr. Peterdeebom Peterdeebom was seen currently doing some manual works in Omuma-Okehi bad road in Rivers State.
The road has grown from bad to worst.
Similarly, Hon. Chisom Promise Dike, a member of the Nigeria's House of Representatives, has rejected an SUV gift from the Rivers State Governor, Nyesom Wike. The lawmaker asked Wike to keep his SUV gift and instead repair the long abandoned roads in his constituency, he said.
The amiable Governor of Rivers State, His excellency Nyesom Ezebunwo Wike should in a matter of urgency 'come over to Macedonia' and fix the rural community roads, which is inline with his vision to fix Rivers State to standard that will attract investors to settle in the state and ease movement of agricultural products in the state.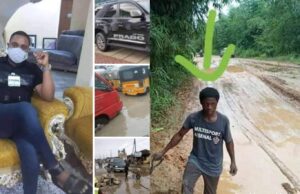 Dez Mayorz report