Amb Henry George
DMOMA Award: Mixed Martial Arts President Amb. Goerge Henry Recieved His Nomination letter.
The President of the Nigeria Mixed Martial Arts Federation and DFC Africa, Amb. Henry George has recieved his DMOMA Award nomination letter with joy.
This he received in Port Harcourt when the organizers of DMOMA Award visited, and below is what he said :
"…I thank the panels who nominated me for the prestigious award. The organizers are doing a great job. Am delightful."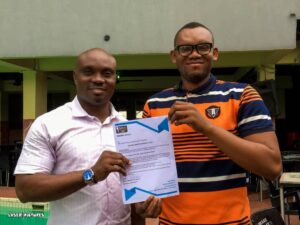 "….As a world champion, we have so much concerns on the talented ones in Nigeria and we want to help them, train, build and promote them to the world stage, to ignite and give them hope and platforms, with 'Do' aspect of the martial arts fused in… "- Amb Henry George told Dez Mayorz Media.
Amb Henry George is nominated for the sports personality of the year category in the 2020 DMOMA Award of excellence, alongside Leichester City player Ndidi, Friday Kelechi and Sammy Wejinya.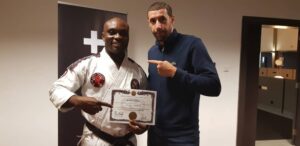 DMOMA Award is an award of excellence that awards people of excellence in South East and South South from various disciplines and endeavors. The grand finale (award night) is scheduled to hold on 12th December 2020 in Port Harcourt, Nigeria.