Ayuba Led NLC is Another APC Wing Of Selfish Interest – Obio/Akpor LG Chairman berates NLC.
The Obio/Akpor LGA chairman Hon Solomon Abel Eke
has berated the Ayuba led NLC administration as a selfish and toothless bulldog that wants to cause unrest in the state, said they are of no public interest, but rather selfish interest.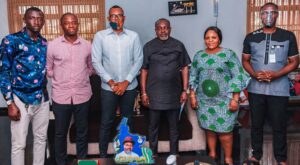 This and other things he said when the Online Media Practitioners/DMOMA AWARD organizers visited him in his council to drop his nomination letter to him, haven been nominated as a Local Government Chairman of the Year, South East and South South together with six other LGA chairmen.
The accessible LGA chairman, Hon Solomon Eke showed his displeasure over the manner in which Ayuba led NLC is going with the Labour Union in the state.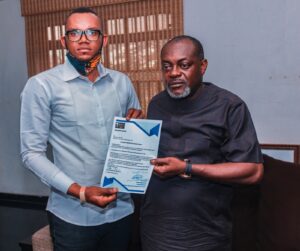 "….Ayuba led Labour Union are not fighting for the masses but for their selfish interest.
You remembered the unrest in Nigeria during Goodluck Jonathan administration, how the Labour Union 'occupied' the country with series of protest,
but now, the present APC administration have increased the fuel pump price severally and the Labour Union is not protesting,
but they want to come to the peaceful Rivers State to cause unrest."
"They are just frustrating the South East and South South zone because they see us as minority.
Where are Prof Wole Soyinka and Bakare?
They are all hiding in shame now."
"The State NLC demands are on the Rivers State Government table for discussion and harmonization because the State governor is a man who listens."
"There is no state in Nigeria, including Lagos State that have performed better in rendering services to the State than the Rivers State Government led by His Excellency Gov Nyesom Ezebunwo Wike.
He is giving a tiptop services to the state and should be commended.
He has vigorously improved the state Internal Revenue Generation and many others."
"The only reason why NLC wants to come to Rivers State is to flex their muscles. It's not encouraging all.
They should go to the Federal government and tell failed Buhari to rule well and not to disturb the state's peace and harmony."
"….It's hightime we develop our region to our taste by coming together to build the state to a great standard and by utilising every fund we have access to, including NDDC for the betterment of the state."
– Hon Solomon Eke admonished.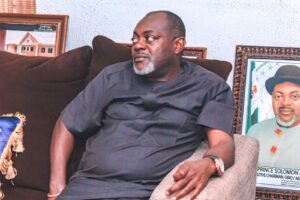 Receiving his nomination letter in Obio/Akpor Council in Rivers State,
Hon. Eke thanked those who nominated him for finding him worthy and also seized the medium to enumerate the achievement of his administration and the future plans of his administration, which Dez Mayorz Media will narrate in full in the next Post.
Rivers State Government is in talks with Labour Leaders, details later.