Labour Strike In Rivers State
This 10 Labour Demands Can Nail Gov Nyesom Wike If He Does Nothing To Dialogue With The Labour.
The Joint Action Committee of the Organised Labour (NLC and TUC) say they are going for strike due to the failure of the State government on the following.
1. Failure of the State Government to conclude and sign with Labour on the implementation of the new minimum wage (#30,000 minimum wage).
2. Non implementation of annual salary of Rivers State Government since Gov Nyesom Wike assumed office in 2015.
Non implementation of promotions since 2015.
3. Non payment of outstanding salaries for workers which were not paid due to biometric test.
4. Non Payment of Health workers salary in October 2017 because of their participation in national programs.
5. Non payment of gratuity to pensioners since Gov Nyesom assumed office.
6. Failure to clear the pensions and gratuity indebtedness which has become normal to the State government.
7. Failure to employ youths since 2015.
8. Failure to revive the collapsed Rivers State Local Government Pension Board and reinstatement of Ahoada Local Government workers.
9. Using Rivers State Youths as tugs and Tasks Force.
10. Sealing up and vandalizing the State NLC secretariats and using Civil Servants as slaves.
They conclude and say they are tired of the government and vow to embark on protest and strike on Monday 7th October. The Organized Labour In Rivers State says it's not aware of any court injunction restraining them from embarking on planned strike.
All our efforts to get to the state Ministry of Information to affirm this Labour demands was futile as the State Government continuously shun the Online News Platform (bloggers) from all their press briefing.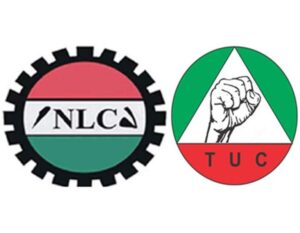 Rivers State Government has announced that the state Labour (NLC) can not protest or go on strike now because of the court order barring them from embarking on strike or any protest.
Dez Mayorz Report.