Cowardly security agencies who negotiate & plead with Boko Haram members just killed many armless IPOB members in Enugu.
A bloody clash involving members of the Indigenous Peoples of Biafra (IPOB) and security agents at Emene, Enugu has led to several persons being feared killed.
Fulani dominated Nigeria Police and DSS that likes attacking armless southern Nigerians, same way they arrested many IPOB members in Imo State and paraded them for doing nothing continue to intimidate southern Nigeria youths.
It was understood that trouble started at about 7.00am in Enugu, when some police personnel stormed an IPOB gathering at Community Secondary School Emene and attempted to disperse the group and make arrests.
This led to killing of many IPOB Youths by security forces.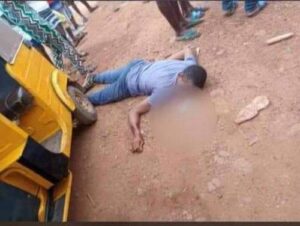 Governor Ifeanyi Ugwuanyi has visited the scene where the security agents killed members of the Indigenous Peoples of Biafra (IPOB), at Emene, in Enugu State, on Sunday.
The Governor who assured residents of the area and the security agencies that normalcy has returned, and that the place is calm, without saying anything about bringing the culprits to book.
The leader of IPOB Nnamdi Kanu has reacted to scene with this statements below :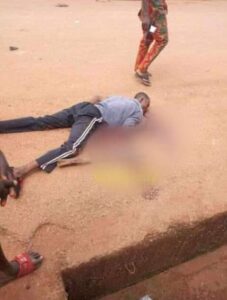 "Enugu State Commissioner of Police, Ahmad Abdurraham MUST understand that the era of killing unarmed civilians in Biafraland is over.
What happened in Emene Enugu is a taste of what is to come.
Fulani terrorist police and army must know that we will not allow the ancient land of our ancestors to be overrun by Fulani terrorists posing as Nigerian Police, DSS & Army.
Any police or unit that dare attack unarmed civilians in Biafraland will pay a heavy price henceforth.
If you don't want us to agitate in peace, we will agitate in pieces. Self defence is a fundamental human right and we intend to exercise it to the fullest. If you kill us, we will kill you." – Nnamdi Kanu.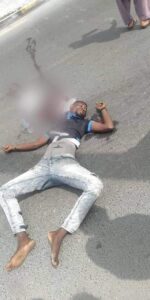 Below is what Nigerian Police got to say.
The Police Command in Enugu State says four persons were feared dead during security agencies and members of Indigenous People of Biafra (IPOB) clash on Sunday in Enugu.
Briefing newsmen on the incident on Sunday, the state's Commissioner of Police, Mr Ahmed Abdurrahman, said that police arrested five IPOB members involved in the clash, which started at the early hours of Sunday.
"This morning I received a distress call that IPOB members were firing sporadically on the air and scaring people along the Enugu-Abakaliki Road precisely in Emene community axis of the road.
"The police quickly mobilized its officers and men from Divisions, Units and Area Command led by the Police Area Commander Metro that when to the scene but they were faced with heavy gun firing from the IPOB members and the police responded appropriately.
"However, in the cause of the development; I also invited the Nigerian Army and Nigerian Air Force, since we operate in unison and synergy, to ensure we restore normalcy quickly in that axis of Enugu,'' he said.
The commissioner said that the police was able to rescue one of the DSS officials in a building they held him and some other policemen hostage.
"However, four persons lost their lives. These included two persons – which one was hacked to death with matchet and one innocent passerby set ablaze.
"Many of the IPOB members also escaped with bullet wounds in the gun duel that ensued between the security agencies and the miscreants (IPOB members),'' he said.
He urged all hospitals in the state to accept and treat anybody with bullet wound; but ensure they also report the person to the nearest police station.
"The command has started tracing people with bullet wounds.
"If a hospital does not report to the police, if discovered, the health facility or hospital will be termed to be aiding and abetting criminality." – Police threatens.