Chidi Lloyd.
Straight to the press statement.
Defection: Bro Felix Obuah, Happy Over Chidi Lloyd's Home-Coming
The Sole Administrator, Rivers State Waste Management Agency (RIWAMA), and immediate past chairman of the Peoples Democratic Party, PDP, in the State, Bro Felix Obuah has welcome the defection of the former leader of the State House of Assembly, and Director-General of the All Progressives Congress (APC) 2019 Governorship candidate, Tonye Cole's campaign organization, Hon. Chidi Lloyd to the PDP, calling it an eventful home-coming.
Bro Obuah in a statement said he is particularly happy because Chidi Lloyd's coming back to his foundational party and the subsequent reconciliation with his other members and former lawmakers in the PDP has finally brought to a happy end the sad incident that estranged their relationship while he (Obuah) held sway as the state chairman of the party.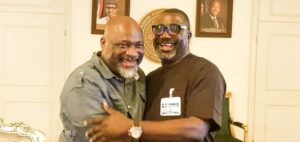 He expressed optimism that Hon. Lloyd's open dumping of the APC and apology for his past mistakes and miscalculation will spur many others and open the floodgate of secret admirers of Governor Nyesom Wike's leadership style that is second to none in the annals of the political history of other state into the PDP.
Bro Felix Obuah thanked His Excellency, Gov Nyesom Wike for living true to the democratic principle of politics without bitterness and giving all Rivers citizens the opportunity to be part of the progressive political culture that traverses the length and breadth of the state inspective of individual differences.
"While I sincerely welcome my good friend, and brother, Dr. Chidi Lloyd back to our collective fold, I also thank the state leadership and members of our beloved party for their large heart and understanding and ask that all the love, cooperation, rights and privileges enjoyed by our members be lavishly extended to all the friends and supporters of Hon. Chidi Lloyd who have rejoined the party having seen the light and progress we represent and wisely and timely too, dumped the shipwrecked and moribund APC", the immediate past state PDP chair declared.
Signed:
Jerry Needam,
Special Adviser on Media and Publicity to Bro. Felix Obuah, Sole Administrator,
Rivers State Waste Management Agency (RIWAMA).
Tuesday, August 25, 2020.