Ms. Joi Nunieh Was Fired for Dodging National Service And Insubordination
By Clement Ikpatt
Akwa Ibom State
Ms.Joi Nunieh, rhe replaced Acting Managing Director of NDDC, thought she had a smoking gun against Sen. Godswill Akpabio. It turns out that she has none and does not even have a firecracker to ignite.
The Senate Committee hearing on NDDC was not an appropriate place for her witches brew of lies, conspiracies and hate. So did Joi and her sponsors figure. Joi did not attend the hearing sessions, she had to blab her mouth elsewhere so as not to be placed under oath.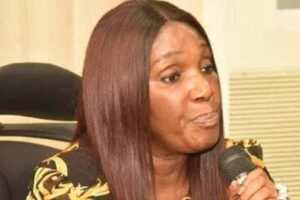 She did a television stunt and published same all over social media, talking about some superstitious oath taking ceremony that was invented in her confused mind. That was sloppy of her and her clumsy sponsors to plan and execute,
Watch and listen to the attached video clip. The subject of discussion is all about a Port Harcourt street girl who outsmarted herself, an unpatriotic national service dodger and a God forsaken liar thoroughly exposed. Joi Nunieh has no credibility whatsoever: never had, never will have. Never could have been able to manage the NDDC any better than.some of her scandalous predecessors.
Her ventriloquists will soon cut the strings with which they controlled her because they cannot afford to be any longer associated with an over ambitious national disgrace and sore loser.
Only heaven knows how Ms. Joi Nunieh would have protected the ventriloquists, frustrated the IMC and scrambled out the forensic audit of NDDC if she remained the Acting Managing Director.
Lesson
Do everything else in Nigeria and see if you can wiggle out of them, but don't lie about your certificates and NYSC call to service. You will be disgraced and fired when President Buhari heard about it, even if on top of your career ladder.