COVID-19: Gov Wike Grants Tax Relief And Incentives To Rivers Tax Payers.
Massive jubilation in Rivers State as Governor Nyesom Wike granted tax relief and incentives to tax payers.
Rivers State government has suspended all taxes across the State for SME, shop owners, hairdresser etc. For the year 2020.
In the bid to curb the economic impact of Corona virus in the State, His Excellency Governor Nyesom-Wike gracious relief business owners of taxes in Rivers State.
This will soften the economic hardship faced by micro, small and medium sized enterprises in Rivers State occasioned by the outbreak of Corona virus , Governor of Rivers State, His Excellency Nyesom-Wike, has graciously relieved micro, small and medium sized business owners of all tax payment in the State for the remaining parts of 2020.
Real the article on the picture.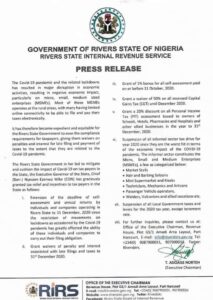 Dez Mayorz report