Future Minds Productions present.
CORONA LAUGH WITH MC HERENZ (live on Facebook).
Featuring:
Mc HolyShrine(PHC)9 Laff Doctor (Lagos), Anointed Mallam (Lagos), Oliver Dapolus (Port Harcourt) and Eze Sam Nwokolo(Eze hi oOfor Ndi Igbo) to speaks to Nigeria on coronavirus.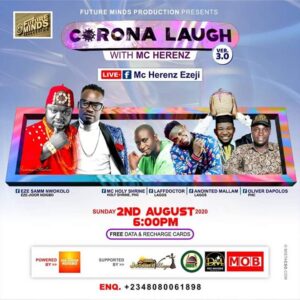 Host : Mc Herenz.
Date : 2nd August, 2020.
Time : 6:00pm (Nigerian Time).
Live on facebook on all the aforementioned featuring comedians facebook handles.
There will be give away free data and recharge cards.
More info call: +2348080061898
Supported by Dez Mayorz Media