Abba
Abba Billionaire (Best Aluminium) Arrested in Onitsha For Protesting Against Billionaire Arthur Eze.
Dez Mayorz report.
Police Arrest Richest Man In Abba With Illegal Gun (Photos).
The Nigeria Police, on Friday, arrested the richest man in Abba, Njikoka, Anambra State.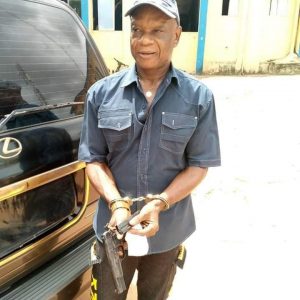 Dez Mayorz via Igbere TV gathered that the man who happens to be only billionaire in Abba was arrested in Awada Onitsha with an illegal gun.
According to report gathered by Dez Mayorz via IGBERE TV, he is the guy leading Abba people to protest against the Supreme Court judgement in Favour of Ukpo (Author Eze).
An eyewitness who shared the report with IGBERE TV said he was arrested by 1:00pm today.
Dez Mayorz gathered that the man "is the owner of BEST ALUMINIUM LTD."
Dez Mayorz reported that some community in Abba and Ukpo protested the illegal grabbing of land in their community by the legendary billionaire Prince Arthur Eze n'Ukpo.