Ballerzs, A New Thrilling Web Series With Blend Of Drama And Music
Introducing BALLERZ, a new thrilling web series with blend of drama and music.
Featuring Lateef Adedimeji, Bunkunmi oluwasina, Damilola Oni, Tobi Igbenoba, Azeez Adedimeji, Aramide Oloko and more.
Ballerz is a thrilling narrative adventure centered on the lives of a group of college students in pursuit of happiness, success, and independence, in the web of love, infidelity and betrayal through their journey from the past and present.
The web series addresses several topics extensively including friendship, love, building career, betrayal, sex, and forgiveness between young undergraduate, post graduate students and creatives, pursuing their unconventional and artistic careers.
It also delves into politics and shines its torch on corrupt practices within government and the administration of the Nigerian schools.
Background Story
Set at the backdrop of Afe Babalola University Ado Ekiti (ABUAD), Ballerz centers on the lives of a young couple WILSON (29) and GRACE (24). Wilson who is the Head of Sponsorships at Expressive Media, a giant media advertisement agency and Grace is at the time a Masters student and the leader of a theatre group called Ballerz.
Ibile is the executive producer of Ballerz and at the same time the owner of record label consisting of talented music artists who are also undergraduates within the campus alongside Seyi, a handsome, passionate, and talented 300-level student of Theatre Arts who is seriously looking out for ways to skyrocket his career.
Ballerz just won a contract being competed with its rival group TIGERS, and this spikes a rift between the two groups.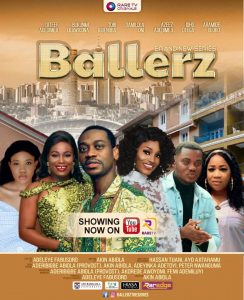 The Conflict
Dunjoye invites Grace to her house and unexpectedly meets Joseph. Grace is infuriated at Dunjoye for her action but later calms down when Dunjoye convinces her to forgive Joseph. In the spirit of the reunion, Dunjoye suggests that they celebrate. As they are drinking, Wilson has been trying to reach Dunjoye so they can go out for a meeting but Dujoye's number has been unreachable; Wilson comes to Dunjoye's house to find his wife in a suggestive position with her ex-boyfriend. He believes they have something going on between themselves. He is devastated.
Grace's effort to make Wilson understand the situation proves abortive and finally Wilson is ready to divorce her.
Ballerz is a Rare TV Originals production for Rare Edge Film and Arts Academy; a film school subsidiary of Rare Edge Media Limited- producers of the award winning show, Aajiirebi, Awon Aladun De, Borokini Telenovela and Family First.
Produced by Adeleye Fabusoro @adeleyefabusoro; written and directed by Akin Abiola @officialkajola