Felix Obuah political Sons and daughters eulogise his birthday with mega celebration.
Felix Obuah birthday celebration.
The Rivers State PDP chairman Hon Felix Obuah celebrates his birthday in Eagle Island, with many political leaders coming to his house to felicitate with him.
The political sons and daughters of bro Felix Obuah surprised him with mega celebration packages as they gathered to wish him well and celebrate him in grand style.
Including, Rt Hon Ehie Ogerenye Edison (deputy speaker of Rivers State), Wikematics Ogestar Obiwali, Azubuike Mmerunkini J., Hon Major Jack, among others.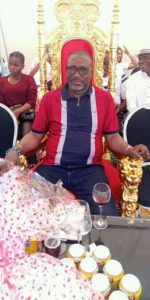 Speaking to DEZ MAYORZ Nigeria, Wikematics Ogestar Obiwali eulogised the RIWAMA sole adminstrator with praise, call him life changer.
"We came to celebrate him, he is a man of impact. He's a life changer.
A man of his words and a man of impact.
Go-Round is a blessing to many.
GOD bless your new age my boss!" – Ogestar Wikematics Obiwali tells DEZ MAYORZ.
Bro Felix Obuah is the Rivers State PDP chairman and the RIWAMA sole adminstrator. He is a proactive philanthropist.