Made in Port Harcourt : Prince Hezekiah blasts those who demarket Rivers State.
Prince Hezekiah made in Port Harcourt.
Made in Port Harcourt : Prince Hezekiah blasts those who demarket Rivers State.
Bright Jossy writes from Portharcourt.
PROMINENT PORT HARCOURT BASED NIGERIAN COMEDIAN, PRINCE HEZEKIAH LAMBASTES THOSE WHO DEMARKET RIVERS STATE.
— Says their inordinate venture has affected the entertainment industry negatively in Portharcourt.
One of Nigeria's finest comedians based in Portharcourt, Prince Hezekiah has frowned at those who involve in demarketing Rivers State by blowing every negative news from the state out of proportion or propagating false news to paint the state in bad light to score cheap points. He said such persons do not mean well for the state.
Prince Hezekiah a Kalabari Born Portharcourt boy who is presently one of Nigeria's most hilarious stand up comedians expressed his dissatisfaction on the way people cook up negative news to discourage investors from coming to Portharcourt for reasons best known to them at the 2019 edition of his annual event tagged "MADE IN PORTHARCOURT" held in Portharcourt on Sunday.
Emphasising on the negative effects of such actions on the growth of the entertainment industry in the state which is supposed to be the entertainment headquarters of the south south and south west parts of Nigeria, the prince of comedy while entertaining audience at the event advised residents of Portharcourt in particular and Rivers State at large to see Portharcourt as their own home city and promote peace and development in the state.
He noted that one of the reasons why the entertainment industry and other businesses is doing very well in Lagos is because residents of Lagos State do not paint a bad image of their city irrespective of the level of crime and criminality in the state, rather market Lagos to the world.
He stated that Rivers State is not the only state where political party is used as platforms to contest election, and advised politicians to work together for the development of the state at the end of every electioneering period as seen in Lagos and many other states in Nigeria.
He decried the poor patronage entertainers in Portharcourt receives from residents of the garden city of Nigeria and urged Portharcourt residents to emulate Lagos State to develop the entertainment sector in Rivers State.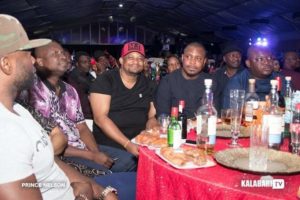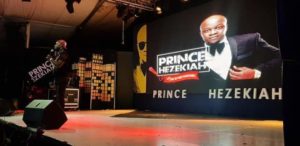 The 2019 edition of Prince Hezekiah's made in Portharcourt Comedy show which held in Aztech Arcum Stadium Road Portharcourt attracted top Nigerian Entertainers and Lovers of entertainment.
The event also enjoyed patronage from principal officers and members of Rivers State House of Assembly, some of whom are : Rt Hon Edison Ehie (Deputy Speaker), Hon Major Jack (Deputy Whip), Hon Azeru Opara (Port Harcourt City constituency 3), Hon Tonye Adoki  and others numerous to mention.