DMOMA Award nominees
Organizers of the DMOMA Award 2019 set to release nomination list this Friday.
DMOMA Award 2019.
Nomination list drops this Friday.
The nominees were nominated at least 2times by different persons….
The nomination statistics according to geopolitical zones is as follow:
60% of the nominees are from the South south.
18% from South East.
22% from other zones.
It shows that DezMayorz.org readers are predominantly from the south.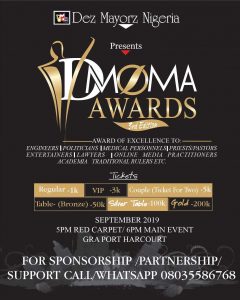 DMOMA Award (Dez Mayorz Online Media Award) is a tip top media Award platform that award unique Nigerians of excellence from various disciplines with the aim to encourage them to do more.
The nominees list will be published and voting starts this August.
DMOMA Award nominees will be publishrd in various media platforms in southern Nigeria this Friday.(From DezMayorz.org)
The organizers of DMOMA Award thank everyone who nominated. The experience will blow your mind.
-Okoye Chidiebele Stephens.
(DezMayorz.org director).