Colonel Elemele death : Nigerian Army Responsible – Atiku revealed.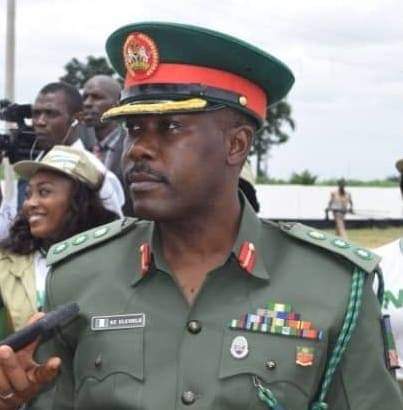 Colonel Kenneth Elemele.
‪unconfirmed account of the 2019 PDP presidential candidate Alhaji Atiku Abubakar has revealed an important questions Army and Nigerian security agency must answer.
Nigeria Army are responsible for the Boko Haram ambush that killed colonel Elemele Kenneth and 3 others in Yobe. They are doing absolutely nothing to stop the insecurity in Nigeria .
Below is Atiku tweet.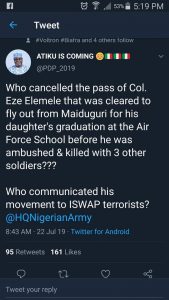 "The killing of Elemele Kenneth and other southern Nigeria army (Biafrans army) is a deliberate attack by Nigerian army to reduce the power and strength of southern Nigerian army incase another war breaks out again – Ade Ayetunde tells DEZ MAYORZ NIGERIA .
DEZ MAYORZ reported that Gov Nyesom Wike of Rivers State has promised to enrol the children of colonel Elemele Kenneth on scholarship.