Bayelsa election.
In what appeared like a carnival, causing heavy gridlock for over 6 hours, from the Igbogene tollgate entrance to the overhead bridge by Azikoro junction expressway, was one of the longest solidarity trains, in honour of a Peoples Democratic Party (PDP), aspirant, Hon. Nimbofa Ayawei, for the November 16 gubernatorial elections in the state.
DEZ MAYORZ gathered via DAILY POST, gathered that it was the homecoming of Gov. Seriake Dickson's preferred candidate among all that have indicated interest to contest in the party's primaries in the State.
Though Dickson has said on several occasions that God will choose his successor, he has not publicly mentioned any name, but the massive support and silent campaigns by his kitchen cabinet members and foot soldiers showed where the pendulum might swing.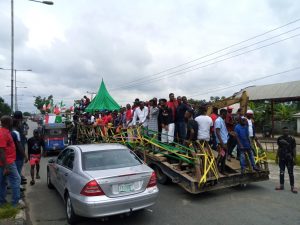 Dr. Ayawei, who is currently the Bayelsa State Board of Internal Revenue (BIR), picked his intent and nomination forms on the wake of the expiration of the deadline of sales of form given by the party for the primaries ahead of the November 16 election.
He said, "I have what it takes to be the next governor of the state owing to my years of experience in public and private service to humanity"
"We can't afford anyone that will come and destroy the legacies and all that has already been built. Bayelsa is on a milestone, look at what we are experiencing today, Bayelsans are all out to facilitate with the new order."