Efi Igbo
Anambra state launched their own cattle rearing business in big scale called Efi Igbo. The Efi Igbo from Anambra State can feed the whole southern Nigeria with red meat in the next one year .
The video below is Wonder farms Umunze, a subsidiary of Eagle Foods Limited Umuchu.
Yesterday at the Launching of the 2019 farming season, Chief Ugochukwu Okpalaeke(Eze Umuanumanu) presented one of the cows from the farm.
Governor Willie Obiano was very glad that Anambra state is not only the LIGHT OF THE NATION BUT ALSO THE FOOD BASKET OF THE NATION.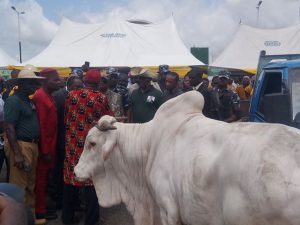 He also urged ndi Anambra to venture into rearing of castles Business more and more as he continuees in his tremendous job in agricultural sector.
Watch video below.
God bless Governor Willie Obiano( Akpokuedike worldwide)!
Credit : Mbanugo Onyeka Nelson