King Ateke Tom
Rivers State Entertainment Stakeholders.
The traditional ruler of Okochiri Kingdom, HRM King Ateke Michael Tom hosted Rivers State Entertainment Stakeholders Forum in Okochiri as his birthday celebration week kick off.
In Continuation Of The Entertainment Stakeholders Ongoing Consultation For The Growth Of The Entertainment Industry In Rivers State, A Delegation Of Rivers Base Entertainers Drawn From All Facets Of Entertainment In The State Under The Auspices Of  Rivers State Entertainment Stakeholders Forum Paid A Solidarity And Consultative Visit To King Ateke Tom,  The Amayanabo Of Okochiri And Sekuro of Niger Delta At His Palace In Okochiri, Okirika Local Government Area Of Rivers State,  Where The Entertainment Loving King Promised To Support The Cause of The Group To Ensure That The Industry Is Repositioned For Greater Heights In the State.
The King While Addressing The Entertainers, Expressed His Sincere Joy On Seeing Young Talented Minds From Every Facets Of The Industry Coming Together In Oneness To Push The Entertainment Sector In Rivers State To An Enviable Height Through Their Different Talents, Ideas And Visions.
The Entertainers Asked For His Permission to Thrill And Celebrate Him On Thursday, The 30th Of May, 2019 In Celebration Of His Forthcoming Birthday On 2nd Of June, 2019 Which He Gladly Obliged With Full Expectation.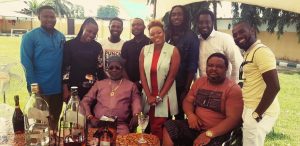 He Also Thanked Mr Peter Stone cold For Bringing The Entertainers To Him And Promised His Full Support To The House Encouraging Them To Be More Creative In Other To Compete Favourably Globally.
Miss Jikume Bethlehem, Thanked The King On Behalf Of The House Adding That The Entertainers Were All Ready To Give Their Best On Stage In Celebration Of His Birthday.