Andrew Uchendu.
Drama In The Senate Chamber As Rivers Senator Raises A Powerful Point Of Order That Leaves The Chamber Divided
Senator Andrew Uchendu, the senator representing Rivers East in the upper legislative chamber  has blamed the incessant bloodshed in the land to youth unemployment.
He stated that for crimes to be curb in the land senators should sell three of the exotic vehicles owned by them and use the proceeds to empower the youths in the country.
"We need to find appropriate economic policies to engage idle hands," Uchendu stated.
The senator while speaking at the plenary session on Thursday during an interesting debate following a presentation by Shehu Sani, senator representing Kaduna Central.Senseless killing of a Briton and the abduction of three others in a holiday resort in Kaduna State by armed bandits."
While seconding the motion, Deputy Senate President, Ike Ekweremadu, expressed his heartfelt condolences to the families of the victims and also to "all Nigerians living in fear.""We need to declare a national state of emergency to enable the government put in place measures to end this problem."
Senator Joshua Lidani (PDP Gombe South), also supported the motion, disclosing that, "Nigeria is becoming a killing field and this will have an effect on investment and tourism."
"We need to do something drastic, something unusual that we have not done before."We need to mobilise the military to those areas and we should not be shy of asking for help," Lidani disclosed.
While voicing his opinion to the debate,Senator Babba Ahmed Kaita (Congress for Progressive Change — Kankia/Ingawa/Kusada constituency of Katsina State) stated that he expressed his condolence to families of the attack victims. While asking
"What have we done as senators of the Federal Republic of Nigeria?"
He then advised, "We should marshal out a plan from the chambers of this Senate to secure this country."
While responding the, President of the Senate, Bukola Saraki disclosed that "If you all remember yesterday, we observed a minute silence and condoled the family and sent messages to the embassy, but the deputy Senate President rightly stood up and said, it goes beyond just this individual worker, both Nigerian and foreigner."
He, therefore, warned that, "There are a lot of issues that we need to address because the way these series of killings are going on and that is why we brought it up today."In line with the last speaker, we must begin to look at the solutions.
"When we talk about the way forward, we need to be honest with ourselves. We need to talk as senators in this upper chamber because in addressing these issues, we need to be frontal on what has led us to where we are today and we must proceed through our political parties' platforms and see it as a problem that all of us need to address."
where there are sanctions that need to be taken, we must be bold as well to say so."
Decrying what appears to be the uncooperative attitude of Police top hierarchy, the number one lawmaker stated that  "I mean, you have all been in this chamber; for one year, we could not even communicate, converse or engage with the Nigeria Police.
"You were all here when the Head of Police refused to even come before us. How can we work together to move things forward because, at the end of the day, we must begin to sit down with those in charge and discuss what we need to do, how do we help you.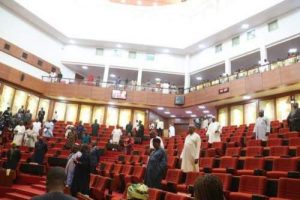 SOURCE: THE PUNCH