Azeru Opara.
Only people who loved suffering and hardship will vote for APC – Hon Azeru Opara.
The PDP candidate for Rivers State House of Assembly, Port Harcourt constituency 3, Hon Azeru Opara has called on Eagle Island residents to vote PDP candidates all the way.
This he made known during the PDP Federal Constituency 2 campaign in Eagle Island. Below is some of his statement extracted by DEZ MAYORZ NIGERIA.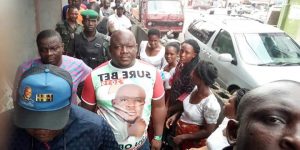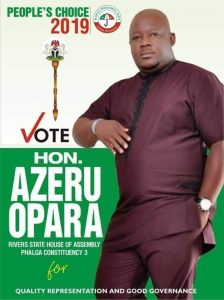 "APC led government has failed us, they promised us that $1 = #1 but now $1 = #365.
The bag of rice and foods stuffs has skyrocketed in Nigeria, bringing hunger and suffering in Nigeria "
"Only evil people who love suffering and hardship will vote for APC. Responsible and good people will vote PDP candidates including Atiku Abubakar for president, Senator Sekibo for senate and Honourable Chinyere Igwe for Federal constituency 2. Then on 2nd March 2019, we vote for Mr project Gov Nyesom Ezebunwo Wike and myself Azeru Opara. "- Hon Azeru Opara told Eagle Island residents.