St Mercy Faaji.
St Mercy, the spontaneous and energetic Hip Hop head based in Port Harcourt releases her debut single featuring Dr Barz.
'Faaji' tends to put in the minds of youths the need to focus & not allow distractions hinder them from positive progress in life.
The song which savours well in a fine blend of gyration & Hip Hop was produced by Charles B.
Download the audio below.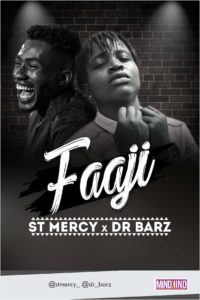 Follow online @stmercy_ @dr_barz
[Lyrics]
No let Faaji
No let Barneys
You carry shoulder pad put you for ground!
(focus focus focus)
No let Faaji
Because of hurry hurry, chai
You carry shoulder pad put you for ground
(Use your head)
[St Mercy]
As a former this & a former that and presently looking for job ni
You dey give me bobo, You dey give me gala as jara on top of the talk you mean
You get am before still dey count am as property that is the root of your poverty
You better be focused and forecast the future cause life be like surebet slip
[Dr Barz]
FOC… (Abobi na free of charge?) but just add US
Then you fit go US and you start to be living large
If you get OT (mehn e no go bad)
Shey because you dey take Tobago (tobacco), you be feeling like Trinidad
Abobi concentrate like a pack of juice
To coordinate, no be heavy tools
No accommodate any hate. ahead ahead is the way that you gotta choose
That's what I do … I dey motivate, na my steady cruise
Walai, Guy, From here to Dubai till you die … No forget the rules.
Old Roger is dead & gone to his grave … Hmm Haa gone to his grave!
They planted an apple tree over his head … Hmm Haa over his head!
#MindKind