Nnamdi Kanu.
The leader of the Indigenous People of Biafra, Nnamdi Kanu has been spotted in Jerusalem in a video circulating online. The pro-Biafra separatist group leader, clad in white cloth and a cap was seen praying at the wailing wall in the Holy City.
Radio Biafra had earlier confirmed in a tweet signed by Uche Mefor, the deputy leader of IPOB, that Kanu would be broadcast live on Facebook praying in Jersualem.
"The Supreme Leader of the Indigenous People of #Biafra (IPOB), Mazi Nnamdi Kanu would within an hour from now praying in Jerusalem Live on facebook. All are enjoined to hook on. Chukwu Okike is in charge!," the tweet said.
What Kanu might do:
It's no doubt that Nnamdi will be among the dignitaries that will determine the outcome of 2019 election. Kanu might take the following action in his second coming :
1. He might mess things up for Atiku and PDP in 2019, if he calls for election boycott and referedum in southern Nigeria.
2. Hope for Biafra agitation rekindled as his multimillion supporters will resume agitation.
3. Nnamdi Kanu might remain mute until 2019 election finish to favour Atiku and Obi election for restructuring.
4. War. Yes war. Nnamdi Kanu is unpredictable. He is a nightmare to Buhari, south East governors and even PDP, Nnamdi Kanu might come with war.
4. Finally, Senator Enyinnaya Abaribe will now rest.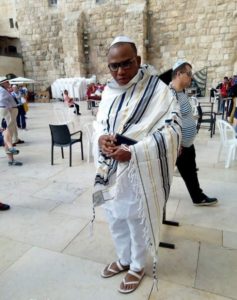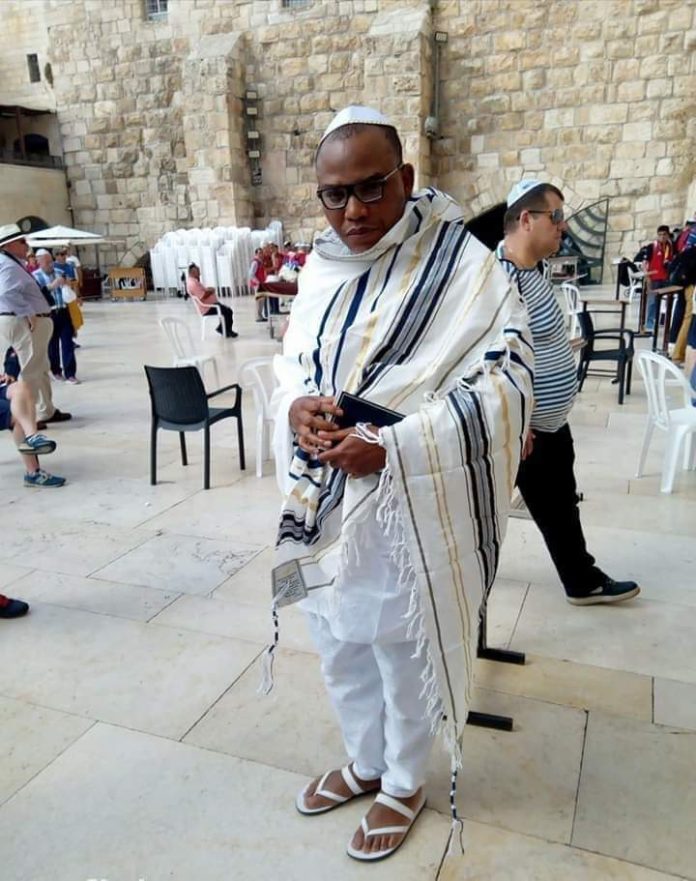 A
Kanu reportedly went missing in September 2017, when hisUmuahia family compound was invaded by men of the Nigeria Army.
The Nigerian government was accused of keeping the separatist group leader in captivity by Kanu's family members but the governmenthas since dismissed the claims that he was being held in secret by the military. They claimed Kanu was "hiding" somewhere.
Kanu's wife, Uchehi, in February 2018, said the Nigerian government had to provide her husband or at "least tell us where he is" before the elections.
Kanu was first arrested in October 2015 for demanding the separation of Nigeria from Biafra and was later granted bail in April 2017.
The leadership of Ohanaeze Ndigbo Youth Council Worldwide led by Mazi Okechukwu Isiguzoro,has Confirmed Receipt of the news of sighting Nnamdi Kanu at Israel, and observing the Sabbath ordinances and Prayers.
DEZ MAYORZ, in a statement made available to PUO REPORTS on Friday and signed by Comrade Obinna Achionye Deputy President General asked President Muhammadu Buhari to give Nnamdi Kanu Presidential Pardon.
"We Urge President Buhari to grant him Presidential pardon and squash all legal proceedings against in the spirit of National reconciliation and forgiveness, if Federal government can release boko haram detainees in kano and planning to give Amnesty to boko haram,this gesture should be extended to Ipob,they should reverse the Tag of Ipob as a terrorist organization and allow peace to reign"
"We beg the Ipob followers not to go to the street now in the spirit of jubilation in other not to create political tension in the South East and South/south in other to fall victims of security agents, Until Oyc persuade Federal Government to reverse its decisions against Ipob"
The Ohanaeze Ndigbo Youth Council Also urged the South East Governors to close ranks and rebuild the Destroyed home of Nnamdi Kanu's Father.
"We Urge the South East Governors to close ranks and rebuild the palace of HRH Eze I. Kanu, which was destroyed during the Python dance, and ask the leader , Nnamdi Kanu to change strategy and embrace the hands of genuine Igbo brothers and leaders, We still ask Ipob to have rethink on its decision of Proscribing The parent body of Ohanaeze Ndigbo, and disruption of Ohanaeze events and gathering"
"Oyc will lead any struggle to ensure self determination is not tagged terrorism, and ensure there is peaceful co existence between all stakeholders in Southeast" they Said.