Csplendor.
Why ladies like Csplendor song "Wait for you ".
There is no one especially girls who will listen to Csplendor song "Wait For You" without falling in love or crying for love or feeling that butterfly love mood, especially when you are opportuned to see Csplendor perform the song live on stage.
The song "wait for you" have a kind of spirit that reminds you of your partner. It's a love song full of message, emotion and love language, well produced by two producers (SectionMan and Csplendor).
Girls emotionally cry when they listen to the song. Many girls cried when Csplendor was performing live at Dez Mayorz Online Media event.
The song is quality.
Listen/ download the audio song below.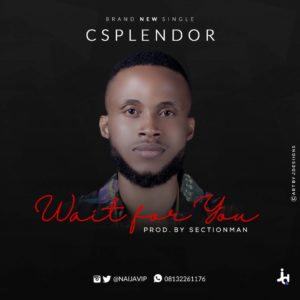 Csplendor is a very talented Singer/Producer From Rivers State Nigeria and CEO of VIP
sounds.
He always dishes out a classic tune.
If you love Pure Fuji music? You will love this one.