Zik Award 2018 (The Gatherings of God's general).
The Award to appreciate great men of God, who have impacted lives in Nigeria.
Categories : Most hilarious, most generous, most accessible, most integrated, pastor for the youth.
Main event :
Date : 21st December, 2018.
Time : 4:00pm, Red Carpet, 5:00pm Main event.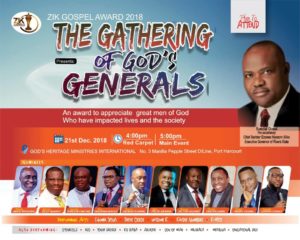 Venue : God's Heritage Ministries International, no. 3 Manila Pepple Street, Dline, Port Harcourt.
Performances by : Chioma Jesus, Sensational Bamidele, Preye Odeye, Wisdom K, Kaydee Numbere, Kmite, Stonecold, Kobaba, SonofMan, Mudiaga among others.
TICKETS : Regular 2k, silver 5k, gold 10k, Table for 6 – 100k.
Promoter : Dezmayorz.org
Plan to attend.