IPOB.
The Indigenous People of Biafra (IPOB), which carried out a peaceful protect in Lagos State, stated that the move was driven at demanding for a referendum date and to also demand for the release of their leader, Nnamdi Kanu.
The secessionist group commended its members in Lagos, "for their fearlessness, doggedness and effort towards organising this peaceful protest to prove that we are ever formidable wherever we are domiciled."
The group which released a statement signed by Emma Powerful, IPOB's media and publicity secretary said, "it is now beyond every doubt that IPOB is more determined than ever to pursue the cause of Biafra independence to its logical conclusion regardless of human and material cost."
Part of the statement read: "The protest today in Lagos will send unmistakable signal to the powers that be and enemies of Biafra alike that struggle for Biafra independence, championed by the one and only indomitable IPOB ably led by Mazi Nnamdi Kanu dead or alive, is duty bound to restore Biafra no matter the odds against us.
"Arrests, killings, detentions, arbitrary arrests, torture, judicial extortion and sabotage cannot stop IPOB from achieving Biafra. The formidability of our unique structure that gave rise to the protest today by IPOB family in Lagos, is a clear indication that this present generation fighting for Biafra freedom will not relent until Biafra sovereignty is totally restored.
"Anybody or group of persons doubting our resolve is in for an almighty shock soon. We say to those reeling under the brutal suppression of the present regime in the Middle Belt and elsewhere that only IPOB has the solution that can save you.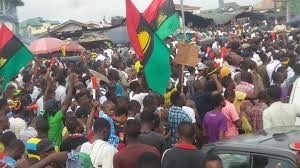 .