Akpabio.
Akpabio meets buhari in london in preparation for his Defection.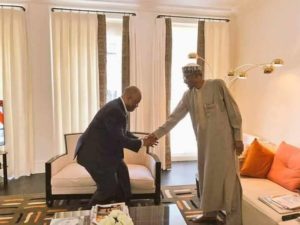 It is now official! The Presidency has announced the formal defection of Senate Minority Leader and former Governor of Akwa Ibom State, Senator Godswill Akpabio from the Peoples Democratic Party, PDP, to the ruling All Progressives Congress, APC, dealing a huge blow to the party in the state and the South-South often considered the main base of the party.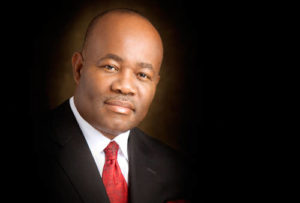 Presidential Liaison Officer to the National Assembly, Senator Ita Enang, confirmed Dez Mayorz's breaking news story earlier in the week tweeting Saturday thus: "I'm confirming that @APCNigeria family as earlier indicated will formally receive H.E.@godswill_akpabio on Wednesday, August 8, 2018, at an elaborate ceremony in Akwa Ibom."
Sources close to Akpabio told to Dez Mayorz Saturday that he is now a carded member of the party.
Akpabio, a very formidable politician, is one of the notable faces of the PDP and commands a cult-like following in his state. The impact of his exit could spell big trouble for the PDP in the state during next year's general elections.