DJ Telesy.
One of Port Harcourt's popular Radio DJ and Music Producer DJ Telesy who was recently nominated for The Media Awards 2018 (Award for DJ Of The Year) sets to drop his official debut single "Pop Some" produced by himself Jimosoundz & and a touch of shaku shaku dance style rhythm from Rich Minds Records's Artist & Music Producer Zez.
The song features one of Port Harcourt fast rising and talented music artist popularly known as Loxxy followed by Zez a.k.a Don Zez winner of Zoro Swag's Mbada freestyle Challenge, Loyz Natty and Wizzy Jay (Special kinda Niaja Boy) now known as Maruche.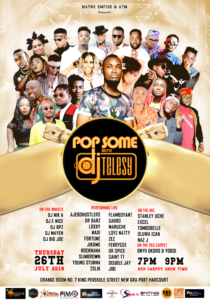 The song Pop some will be dropping few days before the the event "Pop Some With Djtelesy" which scheduled to take place at one of Port Harcourt City's Luxurious lounge and club "Orange Room" located at No. 7 King Perekule Street New G.R.A Port Harcourt. And the event has been marked for Thursday 26th of July 2018.
kicking off with a red carpet show at 7:PM Prompt with the beautiful "Onyii Okoro" host of the PERFECT WOMAN SHOW on Excel 103.7FM and the handsome Dooake Jnr popularly known as Yoboi one of Adure TV host.
Main Event by 9:PM Prompt with back to back performance from DJs (Disc Jockey), Hype MCs and Music artists.
DJ Nik A (Diplomatic Kabiyesi)
DJ E Nice of (Wave 91.7FM & Sliver Bird TV)
DJ BPZ (Beat Point Zero)
DJ Mayen
DJ Big Joe(Orange Room PH)
And the illest on the MIC
Stanley Uche "The People's Champ a.k.a Big Stan" of Wave FM
Excel "The Big E" of Wave FM
Tombobelle of Niaja FM a.k.a "Wife Material"
Naz J "The Rich Boy"
Oluwa ICan "Giving back to art"
And Musical performances from
Maxi
Double Jay
Ajebohustlers( Knowledge & Piego)
Slimbrown
Fortune
2 Slik
Young Stunna
Jikume
Loxxy
Dr Barz
Rock Nana
Sarro
Dr Spice
Zez
Flamboyant Schidi
Saint T T
Ferrycee
Lyn
Loyz Natty
Maruche
Jibi.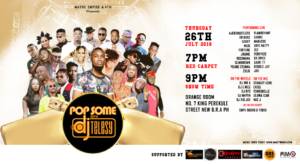 And many more appearances
Pop some with djtelesy 2018 is supported by
Orange Room Port Harcourt
Wave 91.7 FM
PhcityTv
Excel 103.7 FM
MAGTrendz
DeanHyper Concept
Dez Mayorz
Sleek TV
Merrykurta
Gab Branding Solutions
Mokysavory (Tickle your taste buds)
247NG
Campussocial
FreshOut247
P.I.M.P
HUK Entertainment
BlackArt Entertainment
Rich Minds Records
The Binta Nigeria
Sarz Garb
Cake N chops