The entire group of Wikematics Ogestar Obiwali congratulates Gov Nyesom Wike on his Award.
Congratulations to our Governor; Mr Project of Africa.
Leadership Newspaper Governor of the Year Award.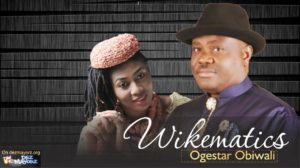 GOV. WIKE SHINES IN ABUJA, RECEIVES THE COVETED LEADERSHIP NEWSPAPER GOVERNOR OF THE YEAR AWARD
In credence to his meteoric rise on account of his people-oriented governance, Governor Wike clinched the Leadership Newspapers Governor of the Year Award in Abuja, 2018.
The Governor was represented by Rt. Hon. Ikuinyi Owaji-Ibani, the Speaker of the Rivers State House of Assembly along with a delegation of leaders and eminent sons and daughters of Rivers State.