Nigerian youths.
Some Nigeria youths have replied Buhari, below are what they said.
Now I know our president is Jubrin as Nnamdi kanu affirmed, had if our president is a Nigerian, he won't have called the youths Lazy youths. – Promise (Eagle Island, port Harcourt).
Why won't he call Nigerian youths lazy when his children are busy reaping where they did not sow…..chai our oil money- Maxwell Ochemebia.
With the way things are going….
It has been announced by the ministry of work that everyone should learn a craft…
Even nah witch craft….
Craft nah craft -David Miles.
The Nigerian youth has created jobs and even new industries for themselves, from music, film, advertising, IT to the rest. All these with no structured support from the government or the country. These are absolutely not what any lazy person can do, I'll like to see any of these people in authority take a simple bus ride around town and come back if body no go tell them, una dey inside AC, eating and drinking the best of everything free of charge, una body still dey one kind. Just thinking about what to do in Nigeria is enough work. Nobody is lazy in Nigeria. The disconnect is so obvious and consistent since 1983.- Westen Godspower.
You will soon hear from "Lazy Nigerian youths" in 2019, Omokri tells Buhari.
preposterous Buhari want Nigerian Youths to be behind Cow and cutlasses weeding before they can be regarded as responsible, when Yusuf his son is ridding on a Power bike all over Abuja. Some one should ask the pathetic clueless Buhari to produce his academic qualifications.- Ananimous.
My advice to all Nigeria youth is to get dere PVC ready for 2019. Not only to come here and chat and make mouth-Taiwo Samuel.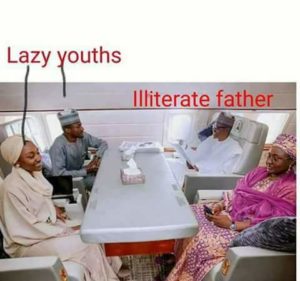 "Nigerian youths are lazy & uneducated. Always wanting free oil money" ~ PMB
SANI SAEED ALTUKRY: Sir, you are absolutely correct. One of the lazy Nigerian
youths who is enjoying free oil money had an accident with
the power bike he bought with free oil money not too long
ago, and he was flown abroad for treatment with free oil
money, then he hired a jet with free oil money from London to
Abuja after his treatment.
Sir, I completely agree with you that the Nigerian youths are
lazy and uneducated and always wanting free oil money. Their
role models are in Aso Rock enjoying free oil money without
even solving any problem for the country.
Why would anyone disagree with you that the Nigerian youths
are uneducated? It's very obvious. That's why they don't
even know their rights. They keep defending your ineptitude.
You enjoyed free education as a young man, but today the
youths are deprived of basic education. You were a governor,
a petroleum commissioner and ahead of states as a youth,
but today, youths are on social media defending your failures.
Honestly, I agree with you that the Nigerian youths are lazy,
that's why you ruled Nigeria as a youth and have also
grabbed the job as an old man. The youths are too ignorant
to even know the implication of your comments. They don't
even know you and your fellow old men are doing jobs they
should ordinarily be doing.
SANI SAEED ALTUKRY
KMAF
Mr President: Yes We Are Not Educated and Lazy – I wonder whose fault that is, By Ismaila Yahaya Kana
Of course Nigerians are ill educated Mr President and I wonder whose fault that is. Nigeria is also a mono-commodity economy and Nigerians have become largely lazy as a result of the free proceeds of the so called black gold. Again, I wonder whose fault that is.
While we may not readily blame you for single handedly laying the ground works for what Nigeria has turned out to be, there's no removing you from fault. You and your generation, all of whom Nigeria educated with love decided that the benefit you enjoyed because of the selfless efforts of some heroes past should be an exclusive of your children. You all designed a succession plan that has your children firmly situated on top of the food chain.
This means the multitude of Nigerians must be firmly kept on their knees while your blueblood breed are sent to posh schools in Nigeria built with our stolen patrimony or why not, send them abroad to return with a peacock grin and that born to rule attitude that that stinks from a hundred kilometers away. Even in marriage, your children are contracted within a tight privileged circle so that the benefits are not wasted on the likes of me who watched mama toil to give me the education that is well, not education in your books. But you are right, we all are just about educated and are lazy; I mean, but for our laziness, how in the devil's name did we elect a president whose generation is almost forgotten to preside over the affairs of a country dominated by youths?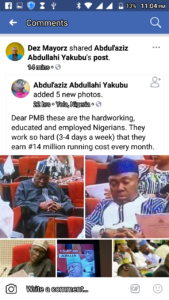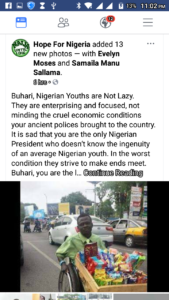 Let's flashback to budgeting for education. Since you were in office as a military head of state and your transmutation into a democratic ruler, what did education get as funding, What 8.5%? To build schools, procure learning materials, fund researches? Surely you too must see that this is paltry? You must also know that it is peanut funding like this and the grizzly fingers of your compatriot of the old realm that have left these Nigerian youth uneducated, lazy and dependent on largesse…
Well, for every situation, I find a window of opportunity and I want to tell you Mr. President that you are right on all fronts, we the youth are everything you said we are and you and your friends at the elite club have contributed in no small measure to make us who we are but you can change all that. Correct all the mistakes of the past generals and their cronies, educate the Nigerian Youth, diversify the economy so that we may shift our gaze from oil.
Evidence abound to show that the typical Nigerian youth can succeed in virtually every field of human endeavor if only he is connected with the capacity to do so, and the conducive environment to thrive. But if you are in doubt, create and ecosystem that will accommodate the high spirits of Nigerians from Zaria to Enugu, Agenebode to Ibadan and if they fail, we will let you go to your grave with this damaging assertion about the Nigerian youth. But until then, nobody, least of all you and your friends from the old world have the moral standi to pass this damaging verdict on us.