Solomon Abel Eke
Goodluck Jonathan And Solomon Eke Berate Nigeria Electoral Process.
The former president of Nigeria, Goodluck Jonathan and Obio-akpor Local Government chairman Hon Solomon Abel Eke have berated the Nigeria electoral process and both profer solution to solve the problem.
Former president of Nigeria, Goodluck Jonathan, has said that the outcome of elections must be decided by ballots and not by courts.
Jonathan stated this while speaking on The Osasu Show Symposium 2020.
According to him, electronic voting is the only way to get to credible elections in Nigeria and the rest of Africa.
Similarly the Obio-Akpor Local Government chairman, Hon Solomon Eke has berated the electoral process in Nigeria, says Restructuring the country is a way out.
Speaking to Dez Mayorz Media who brought DMOMA Award nomination letter to him in Obio-Akpor council, he said that born to rule mentality of the Northerners is killing the country.
He bemoaned the electoral fraud of the Yorubas merging everytime with the Northerners to frustrate the good people of South East and South South.
He narrated how PDP almost won the gubernatorial election in Lagos but the Yorubas frustrated and threatened the Igbos and other minority from voting and the APC eventually rigged the election.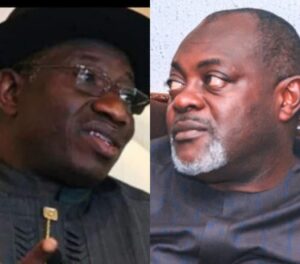 He further condemned the act of using minors to vote in the Northern part of the country,
says Nigeria should embrace restructuring to be able to conduct genuine election in the country.
Receiving his DMOMA Award nomination letter in Obio/Akpor Council in Rivers State,
Hon. Eke Solomon commends Governor Nyesom Ezebunwo Wike for his developmental projects in the state.
He as well appreciated those who nominated him for finding him worthy and also seized the medium to enumerate the achievement of his administration and the future plans of his administration, which Dez Mayorz Media will narrate in full in the next post.