Give Us Time To Relocate, Ikoku Market Traders Tell Landlords And Those Who Sent Them.
It's no longer a rumour that Ikoku landlords have given the Ikoku Market Traders less than three weeks quit notice to vacate the famous market.
It is alleged that the Rivers State Government under the leadership of Gov Nyesom Wike has bought the Olu Obasanjo road.
Many consider the act as a malicious attack on the Igbo traders, especially with the fact that other markets in Port Harcourt have been closed for months, while others see it as an opportunity to develop the vicinity and chase away hudrums and cultists living along the market area.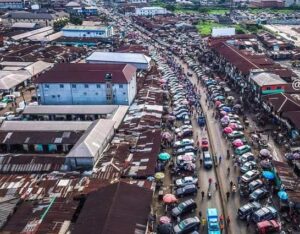 Chairman of Ikoku Spare Parts market in Mile 3 area of Port Harcourt, Rivers state, Anthony Alaribole says the impromptu eviction notice given to traders at the market by their landlords has thrown the over five thousand traders in the market into panic.
Alaribole said that the traders have been given less than three weeks to relocate.
He said he will not be in a hurry to believe that the eviction notice is linked to the Justice for Chima case against the police nor malicious attack on Igbos in Rivers State.